We are in a digital world and the fact that you already know is, nowadays marketing is not how it used to be. To meet your company's needs and ensure its survival, you must have a digital marketing strategy. A digital marketing strategy incorporates the use of a website, advertisements, content marketing, email marketing, and social media marketing. In all the digital platforms social media is becoming one of the most important aspects of digital marketing. It provides incredible benefits that help to reach millions of customers worldwide.
There are now more than 3.6 billion people using social networks across the globe. This data shows how the platforms are powerful.
The platforms have the immense power to create brand awareness and expand your client base. It helps your brand to connect with target and existing buyers. You can learn here about what is social media marketing and why it matters for your business growth.
But before starting to post, you need to have a strong strategy. This is one of the common social media mistakes that a lot of brand managers do.
Trying to build a brand on social media without a defined strategy can be worthless. You'll find yourself just posting without seeing the return of your efforts.
To accomplish your business goals, you will need a clear and specific social media strategy that can help you identify what you want to achieve.
You need a team of professionals to create a strategy for your business.
Bridging Technologies provides social media marketing services in Tanzania with expertise in creating and executing the strategies.
You might be thinking about what social media strategy is?
What Is a Social Media Strategy?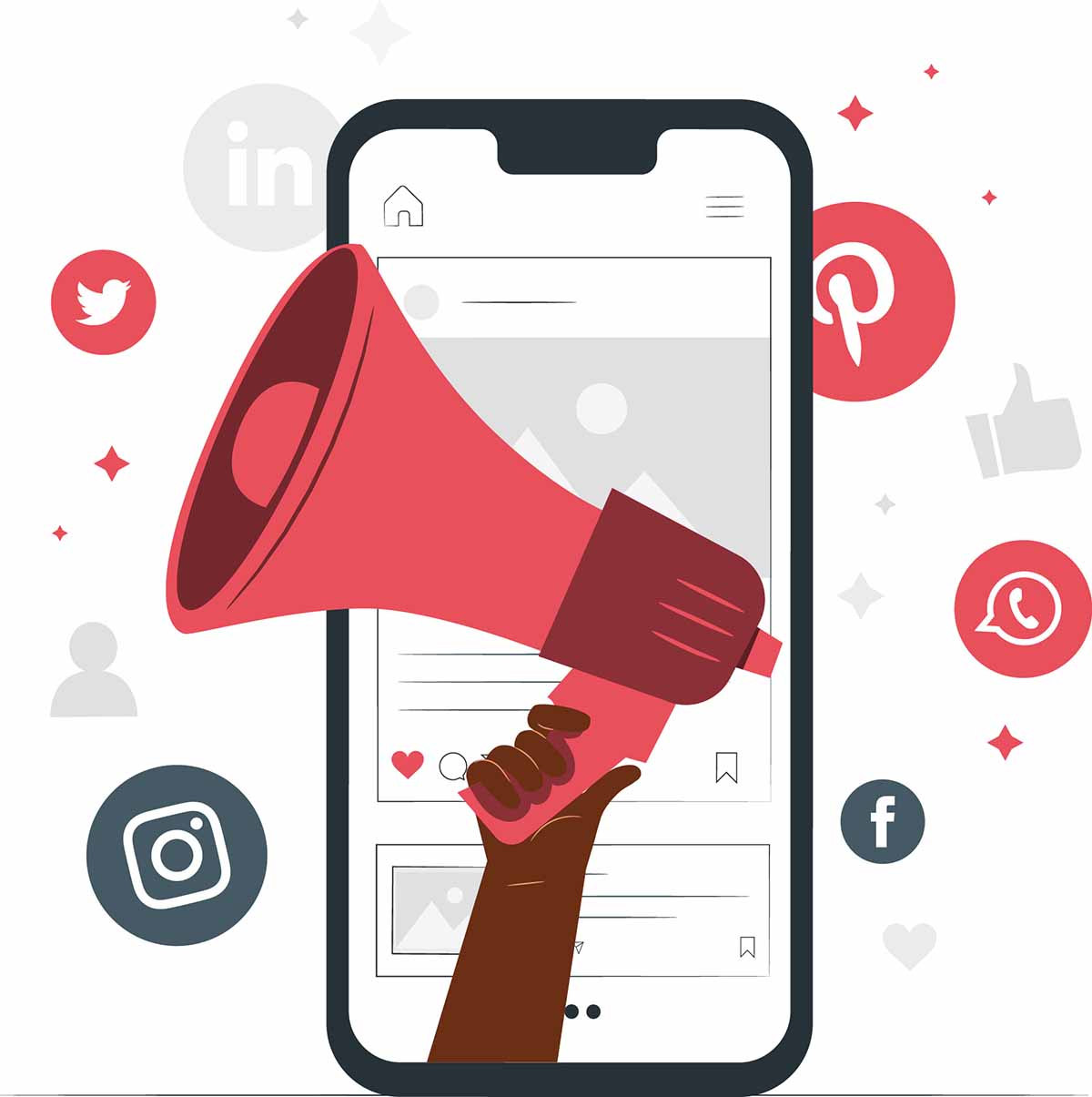 A social media strategy is a summary of everything you plan to do and hope to achieve on social media. It guides your actions and lets you know whether you're succeeding or failing.
A solid strategy should focus on your organization's long-term and short-term goals, such as brand awareness, contribution to new and retained corporate income, and so on.
Having a strategy entails understanding what to publish when to publish it, and what to do with the post after it is on social media.
The challenges that marketers face include reaching their audience, measuring ROI, and reaching business goals.
Crafting a strategy can help tackle these challenges. Social media strategy also helps you to set goals and track your performance over time. Without a starting point, you can't measure what's working and how to shift your activity to hit your goals.
A strategy also helps you set expectations for broader team involvement and get everyone aligned on what they should do on your social networks.
By the end of this blog, you'll know how to create a social media strategy that'll not only drive traffic but also increase brand awareness and skyrocket your sales.
Bonus: Get a free social media strategy template to help you plan your social media marketing strategy quickly and easily.
Easy Steps to Build a Social Media Marketing Strategy
1. Set social media marketing goals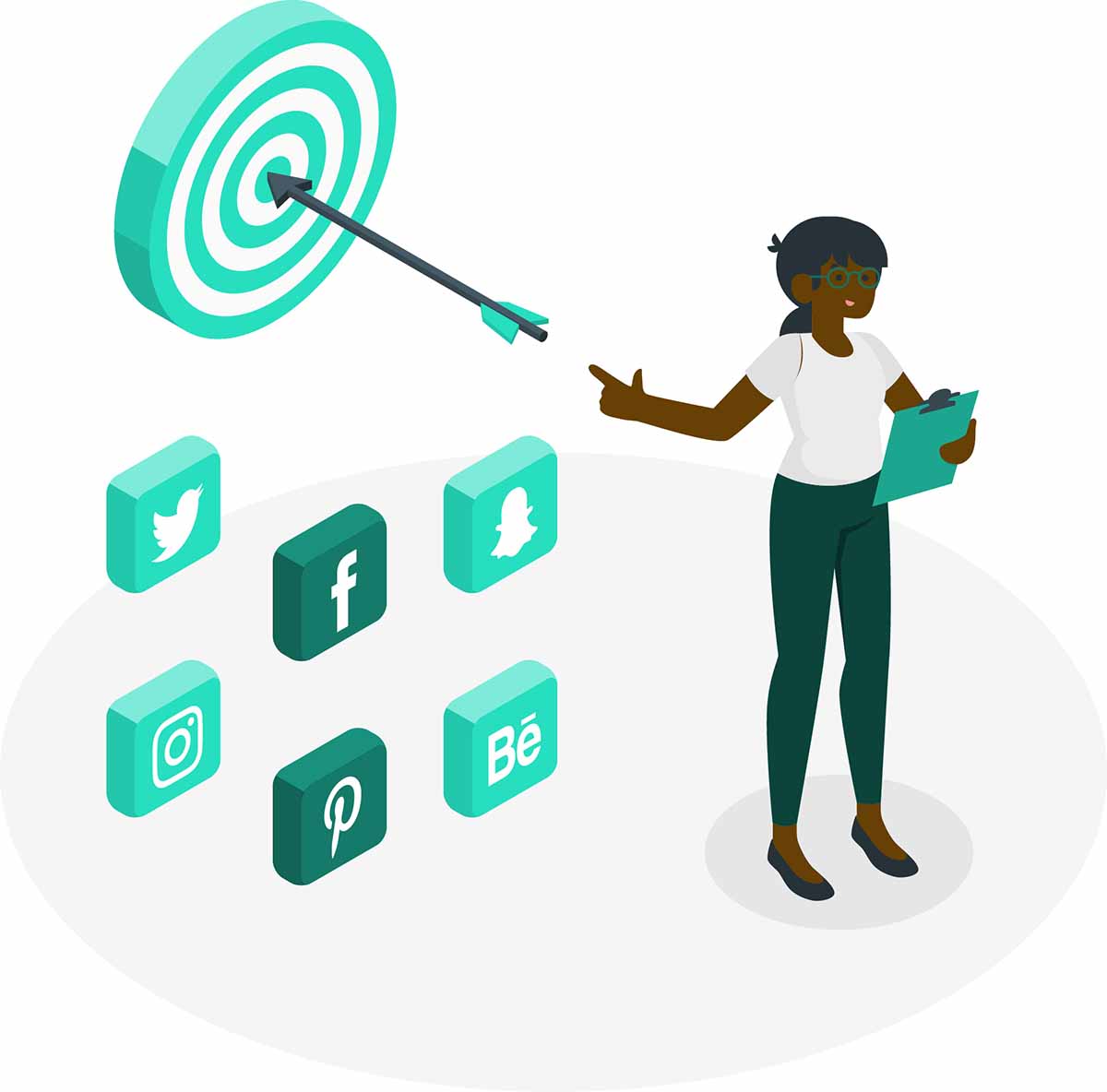 Before determining which platform to use, you need to set the goals you want to achieve out of it.  First, ask yourself what do you want from social media? Why you are using it for your business?
The goals can be to grow your online audience, drive traffic to your website, or boosting customer engagement.
The goals have to be S.M.A.R.T. That will be a guide to your social media marketing strategy. Now, when you're making goals, you need to make sure they're specific and measurable.
SMART stands for
Specific
Measurable
Attainable
Relevant
Time-bound
Example "We will use Instagram for customer care and increase sales of our product by 20% every month".
The goals should be connected with your entire marketing objectives. This makes it easy to demonstrate the worth of your effort.
2. Create buyer personas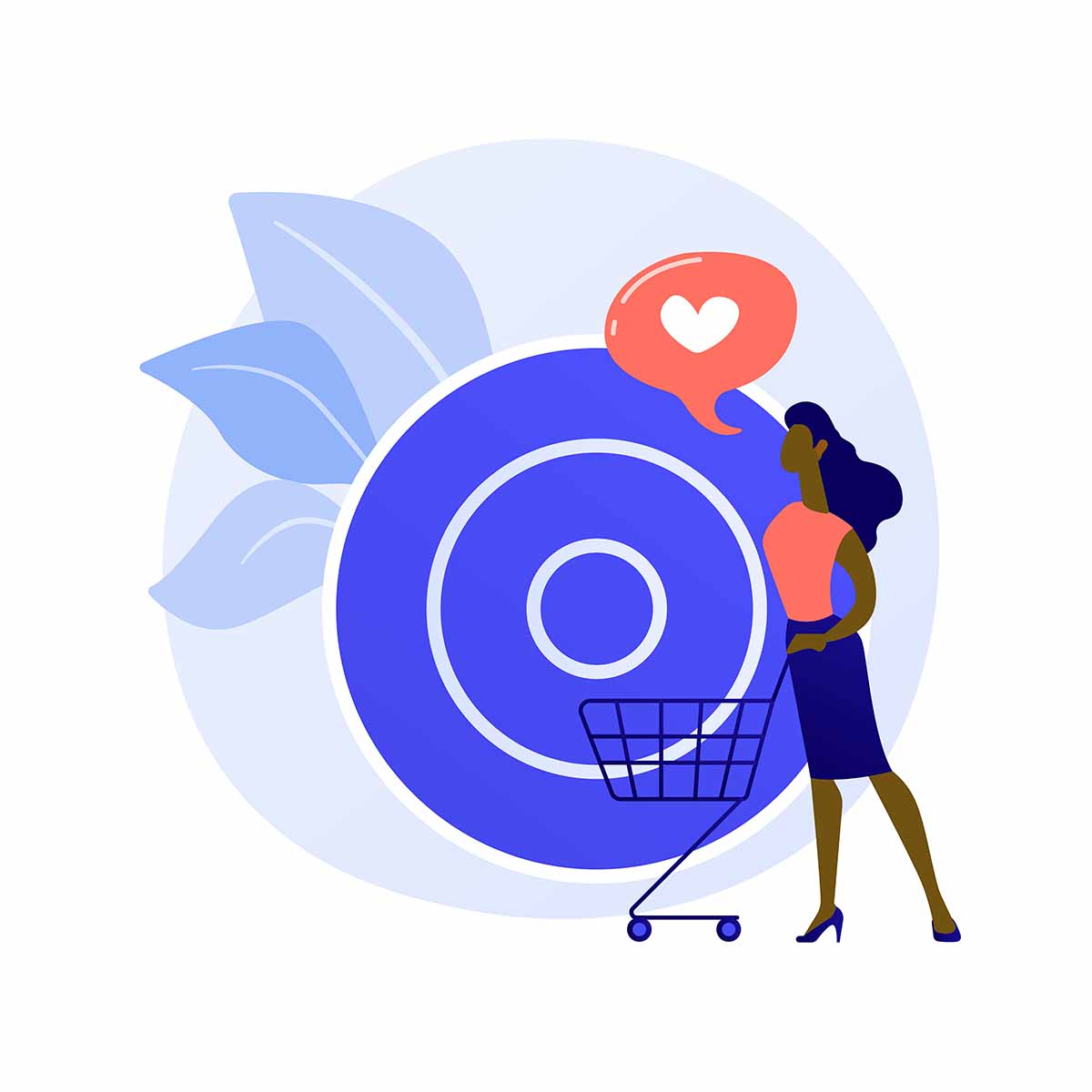 You don't have to assume who your customer is. Each platform attracts a different kind of people. You need to understand where your customers are and how they interact.
There are different kinds of activities on each platform.  For example, LinkedIn users tend to be more professionally focused than Instagram users. You should consider their details like:
Age
Gender
Location
Hobbies
Job title
Influencers they follow
Hashtags they engage with
Active social media channels
Preferred content types
These details will help you choose the right channel and the right content to reach your goals. Knowing your fans, followers, and customers as real individuals can help you target and engage with them on social media.
It is critical to building buyer personas for your company so that you can segment your audience and create more effective marketing strategies.
Bridging Technologies as a digital marketing agency in Tanzania, we provide a free, customizable buyer persona template. We will let you easily organize your research to create your very own buyer personas.
🔥🔥 Download A Free Template 🔥🔥
3. Conduct a competitive analysis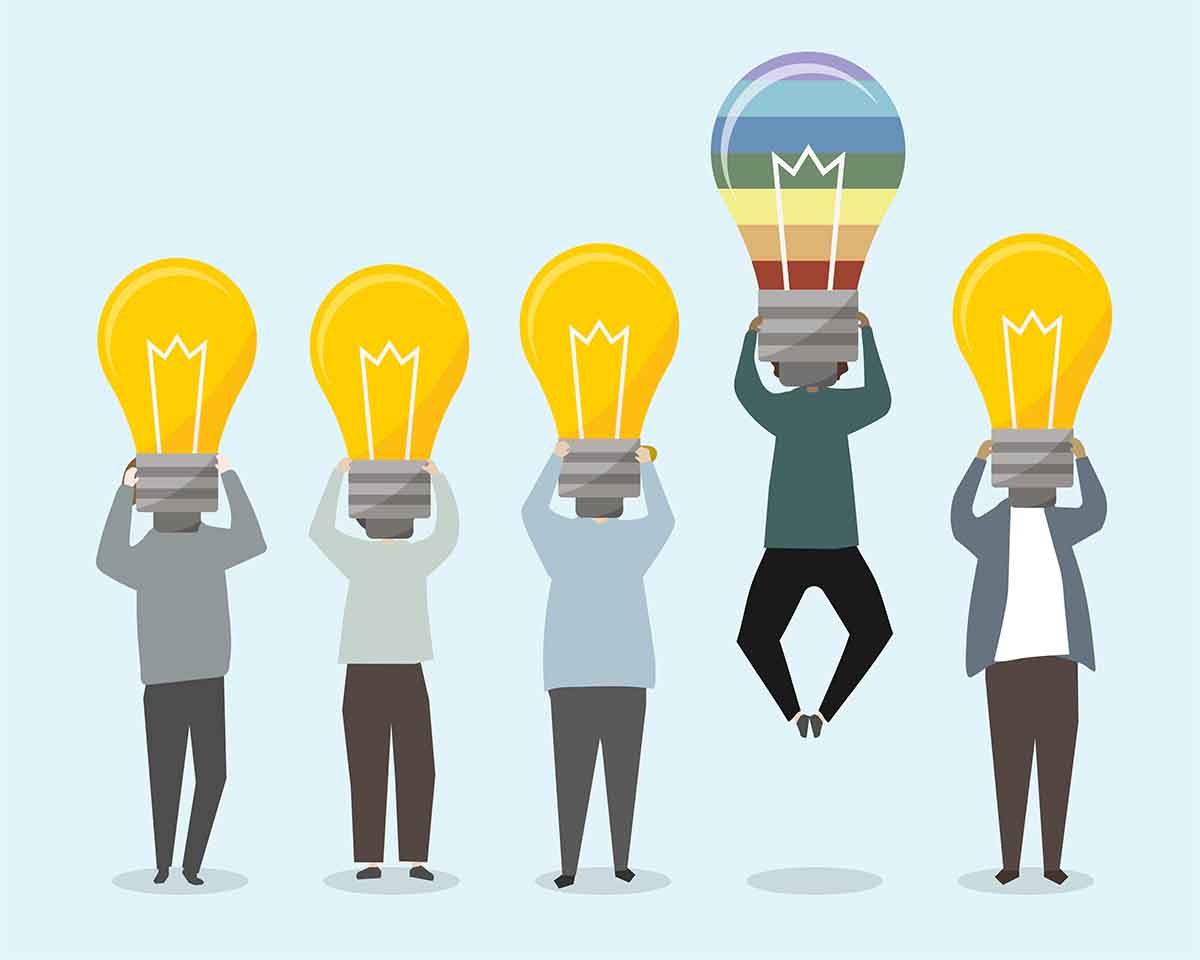 Every business has competition. You need to look at how your competitor is doing on social media. You'll obtain a strong concept of what's required in your business, which can help you define your own social media goals.
The research will help you obtain the strength, opportunities, weaknesses, and threats. With all the data in help, you will understand where to improve and when you can overwin your competitors.
For example, you see your competitor is dormant on Instagram and very active on Facebook. You can focus on the platform where your competitor is dormant, rather than trying to win followers from a dominant player.
Some tools can help you keep an eye on your competitors.  They do searches of the competition's company name, account handles, and other relevant keywords on social media. Also, you can find out what they're sharing and what other people are saying about them. Example Hootsuite.
4. Do a social media audit
Conducting a social media audit is an important step in any strategy. It evaluates your current social media efforts.
If you already establish your presence, you need to keep track of your efforts so far. You need to look at what is working, and what's not? Who is engaging with your page? How does your social media presence compare to the competition? Are impostor accounts stealing your fans?
It will help you to know outdated profiles you need to revive, repurpose, or shut down and new opportunities to grow and engage your audience.
Once you've gathered the data, you'll be able to start thinking about ways to improve. An audit is also an opportunity to determine which marketing techniques are successfully hitting established goals versus which ones need to be revised. The results can be used to assist companies in planning future campaigns and completing future audits.
5. Set up accounts and improve profiles

You must choose which social networks to use, as well as establish your approach for each.
Once you've decided which networks to focus on, it's time to create your profiles. If you have established your presence already, it will be a time to improve and align them with your strategy.
Make sure you fill out all profiles by include keywords people would use to search for your business.
The profile has to use company branding material including logos and images on all the platforms.
Do not commit a mistake by using poor visuals. Find high-quality images that follow the recommendation of all the platforms.
It is preferable to use fewer channels properly rather than striving to maintain a presence on every network.
6. Find inspiration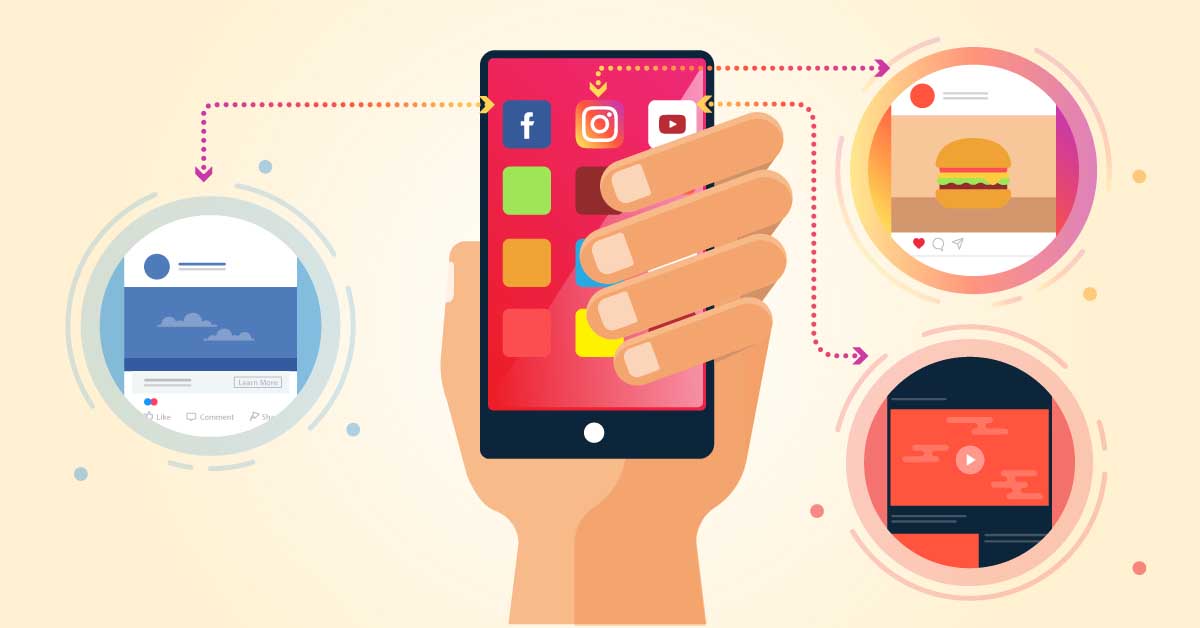 Another step in creating a social media strategy is finding inspiration from other businesses that are successful on social media.  There is a great thing that you will find by looking on a successful page.
When creating a social media strategy, you need the correct type of inspirations to obtain fantastic results.
You can't find inspiration from just any account. Look at successful stories and case studies that offer insights that you can apply to your own social media plan.
Also, you can find an account that has won the award. For example, the winners of The Facebook awards or The Shorty Awards. These awards are for brands that are at the top of their social media game.
There are brands that you like on social media, which you enjoy following and share their content. That will be a great inspiration for your brand too.
After all that, a customer is a king, look at what your customer likes and which pages they follow. What are your target customers talking about online? What can you learn about their wants and needs?
From the inspiration accounts, you can create a social media marketing plan to help you visualize your marketing.
7. Create a social media content calendar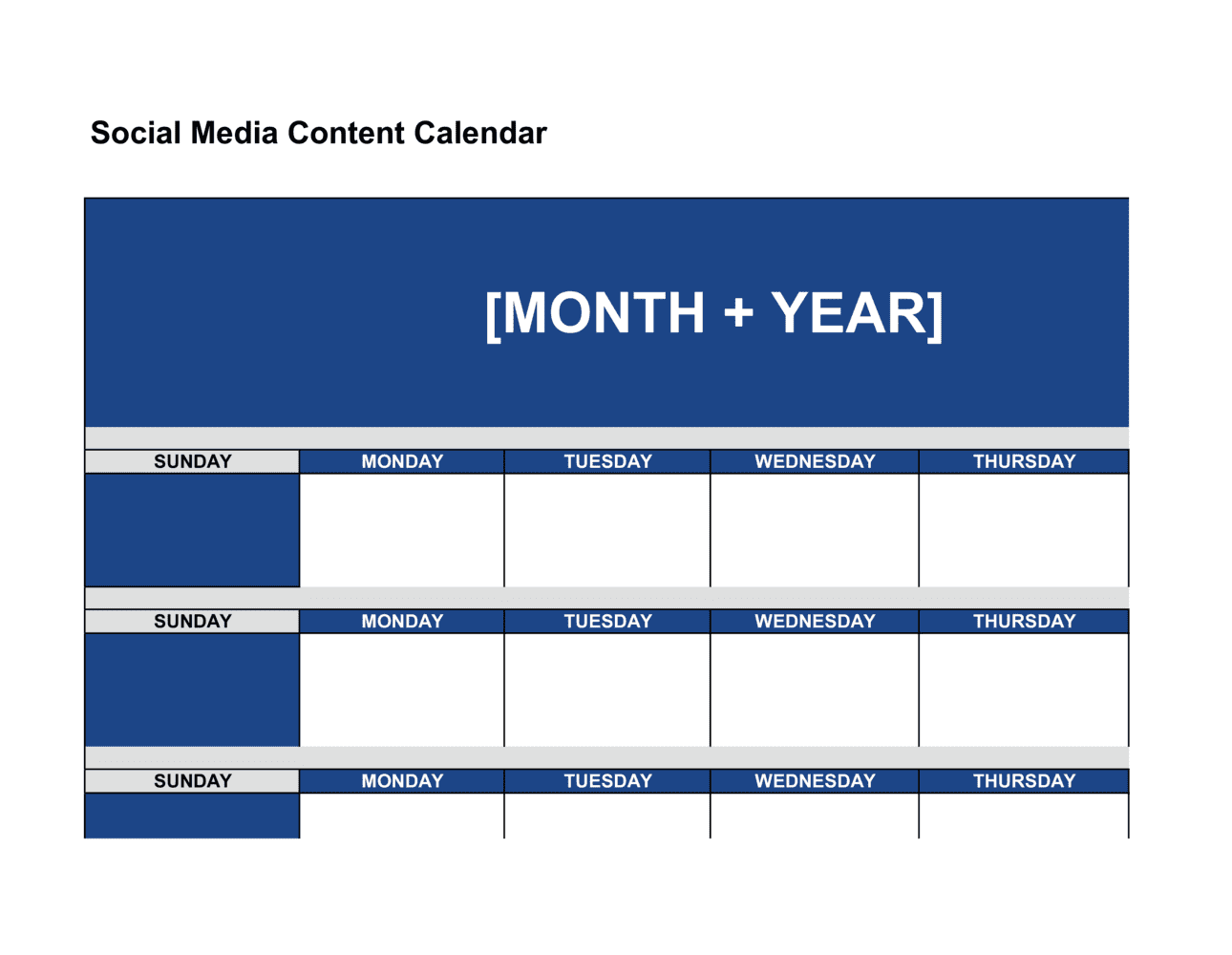 In creating a social media strategy, a content calendar is very important. The content calendar is a schedule that helps you organize your upcoming content by detailing what and when you will post. The calendars are critical to organize your efforts and ensure that you create relevant and captivating content.
A social media marketing calendar specifies the days and hours when different sorts of content will be published on each channel. It's the ideal location for organizing all of your activities.
Your content calendar lists the dates and times at which you will publish all types of content on each channel. It's the perfect place to plan all of your activities from images and link sharing to blog posts and videos. It includes both your day-to-day posting and content for social media campaigns.
You can use the rule of thirds to differentiate the kind of content to post. One-third of your content promotes your business, converts readers, and generates profit. One-third of your content shares ideas and stories from thought leaders in your industry or like-minded businesses. And one-third of your content is personal interactions with your audience.
Make sure your content strategy and calendar reflect the goal you've assigned to each social profile so that everything you post is working to support your business goals.
8. Evaluate and adjust your strategy
A strategy is an important document for your social media marketing plan. You can't expect to do it properly the first time.
You need to track the outcome of your strategy as you apply it. The evaluation will help you discover certain techniques do not work well as you hoped, while others perform even better.
Analytics in each platform can track social visitors as they move through your pages. This helps you to see exactly which social posts drive the most traffic to your website.
The insights can be used when re-evaluating your strategy.  In re-evaluation, you can test different campaigns and posts.
By keep on testing, it will help you to learn what works and what doesn't, and allowing you to refine your strategy.
All of this means that your social media marketing strategy should be a living document that you review and adjust as needed. Refer to it often to stay on track, but don't be afraid to make changes so that it reflects better new goals, tools, or plans.
When you update your social strategy, make sure to notify everyone on your team. As a result, they can all work together to help your company make the most of its accounts.
Lastly, let wind up by the look at the social media strategy examples.
Nike's strategy is an excellent example of a strategy that does not center on its products. They focus on the athletes and teams that use their products.
This draws in the sports fans on their page and widening Nike's audience.
Another social media strategy example is from Dove. Dove is consistent. Their followers know exactly what they are getting on the page. They post positive messages that reinforce natural beauty and the diversity of skin types.
Conclusion
Creating a social media marketing strategy does not have to be difficult. But it's helpful so that you aren't just posting content just for the sake of posting content. It'll help you achieve your social media and business goals.
Good social media management will help you in creating an effective strategy. A digital marketing agency in Tanzania such as Bridging Technologies can help you with all features necessary for running an account.
A great strategy is never fixed. It is a progressive work that will alter as needed. So, develop a strategy, and start optimizing it as you continue to grow and learn more about your business and your audience.
Also, by focusing on those details that make you stand out from everyone else in your niche. You'll be able to evaluate what's going on, start creating your brand voice, create a creative look and feel for your accounts, and all while being consistent and giving value to your audience.
❤️ Bonus: Get a free social media strategy template to quickly and easily plan your social media marketing plan. ❤️
---
About Author