Whether you are a small business owner, entrepreneur, marketer, or blogger, in today's digital marketing world, having a well-designed website is a great deal.
It doesn't matter whether a web is for business or just information, to create your website is extremely important. It helps to reach your audience in the online marketing sphere and extends your working hours to 24 hours.
Many questions may come about web design and analytics, like why do you need a modern website for your business?
How will the website help you to reach your goals? How should the best digital marketing website design and plan process be?
🔥🔥Check Bridging technologies website design methodology here
Maybe you think about affordable online website design packages or which digital marketing agency to work for you?
As always, an important question is how should the cost for a digital marketing website design be? If you seek answers to these questions then, this content is for you.
Suppose you reached a consensus that you want an online website design, what are the things to consider? That is the time where a plan will be needed to play its part.
Why it's important to plan your website and identify your core goals?
Website development is a project just like any other project. To create your website needs to be in perfect alignment with your core objectives.
Identifying your website goals helps you to plan well and set key performance indicators (KPIs). These KPIs are the benchmarks that tell you how the web takes you closer to your goals.

These objectives should initially be stated before a website design and development. Give room to incorporate your core business goals into the digital marketing website design process.
In the end, a site is crafted with a marketing strategy and techniques that suit your business goals to translate your vision and purpose.
A well-designed modern website just before the color needs to serve the purpose of the owner. Whether the purpose is business or informational.
They say if you fail to plan then eventually you plan to fail. If you don't have goals stipulated at the early stages you will fail.
Once your goals are not clear, your project will become daunting and you will be investing blindly.

In today's online marketing world, blind investment does not prosper, marketing needs data and a data needs plan tailored to your goals.
In today's online world data is very essential. Blind investments nowadays equate to the loss of resources and nothing else.
Did you know how far this loss can go?
The loss goes beyond materials and may tarnish your brand image and ruin your entire reputation.
This is very dangerous, nowadays consumers want to feel a connection with your brand before they decide to purchase.
Do you know why you need a website for your business's success?
Take it seriously.
Set clear measurable goals that you want to achieve through the website, before designing it.
Setting clear goals helps to create your web design requirement. This will assist you with a clear benchmark and a road map on how your project should be carried on and properly monitored.
To cut the discussion short, digital marketing websites for today's world needs a plan. You cannot build a modern website, with a profit-making mindset if you don't make clear goals that draw a road map.
How to plan a website in 9 steps?
1. Identify your main website goals
Before starting thinking about website design and development you need to answer why do you need it? What is the purpose of it?
What is the main goal that you seek a strategy to accomplish?
What do you want the website to do for you?
What type of website do you want to have? Is it an informational, selling, or lead generation website?
Is it a touchpoint for your audience and so you look to increase engagement?
Who are your competitors?
Once you have answers to all the above questions you will be in a position to start planning and set what your website should be.
This first part will help you set a strategy that aligns with your core business or brand goals. From here onwards you will start to set strategies and techniques that take you closer to your purpose.
Having a clear understanding of your desired objective will help you set specific goals for your website.
You will be in a position to determine what will your website do, what you will get, and what it will help.
You may have specific goals like the following:
You want your website to attract traffic and grow an audience so that you create many customers to sell your e-books.
You want to showcase your products and services to increase online sales.
You want to share educational materials to help your audience solve their problems so that you become authoritative in your niche and get speaking engagement.
Advertise your business online to increase brand awareness.
Breaking down your goals like the above will help you to decide which marketing funnel suits your business.
2. Identify the target audience you want to reach
It is very critical to identify who is your audience because they are your target consumers and your prospects.
To make something incredible you must know what are their needs, wants, and what are their current problems.
You need to create a fictional representation of how does your target audience looks like in all the dimensions to make your target precise. They are your buyer persona.

You need to know your buyer persona enough to grab all his/her attributes, nightmares, and roadblocks. To start with, you need to know what a buyer persona is.
To build a buyer persona for your brand, imagine your ideal buyer and then fill in the following information that describes him or her:
Demographic details
Age
Gender
Income
Location
Family situation
Annual income
Education
Professional details
Industry
Job title
Company size
What are his/her professional goals?
Psychographics
Personality traits
Values
Attitudes
Interests
Beliefs, both implicit and explicit
Motivations
Priorities
Influences
Favorite blogs/websites
Favorite magazines/books
Favorite thought leaders
Beliefs / Goals
In what does he/she have a strong belief?
What personality traits does he/she have?
 What are his or her ambitions and goals?
Challenges
What keeps him/her up at night? What are their nightmares?
What are his/her pain points?
What challenges is he/she facing?
Buying process
• What part of the buying process does he or she play?
• What methods does he/she use to make purchases daily?
• What are his or her purchase objections?
This will help you to enter into their heads and provide what they need most. You have to position your brand tailored to your target audience's needs, helping them to solve their problems.
Doing that will make them trust you, automatically you will own them.
Bridging Technologies has helped you cover this, and you can download a buyer persona template here.
3. Identify what makes you unique and better than your competitors
They say do not reinvent the wheel.
There is no reason to repeat the same thing that is already available. To make the remarkable experience you must avoid competition. So you need to establish your unique selling proportion.
Take your time, don't rush. Don't take obvious answers but dig deep to get answers for the following questions:
How are you different from your competitors?
Why does that difference matter to customers?
What specific benefit do customers get by choosing you over the competition?
Once you get answers to the above points, you will be able to correctly position your business website plan very well. In the end, your answers will derive you to the insights on:
Best use of your resources so that you save your time and money.
Stress problem-solving so that you are in a position to help you solve your problems and the problems of your audience.
Boost brand Image – Helps you to put suited crafting techniques that will elevate your brand reputation.
Result-oriented – Position your business to give results and guarantee compensation if the result is not met. Be sure of what you offer.
Once you get answers to the above points, you will be able to correctly position your business website plan very well. In the end, your answers will derive you to the insights on:
4. Consider preliminary marketing plans to be incorporated before you go far
➡️Search Engine Optimization (SEO)
SEO enables you to get a better ranking for your site on the web.
A higher ranking for your website will increase the possibility of your site getting more clicks.
Imagine you make a website and it fails to drive any traffic or has traffic that does not convert, how does that feel?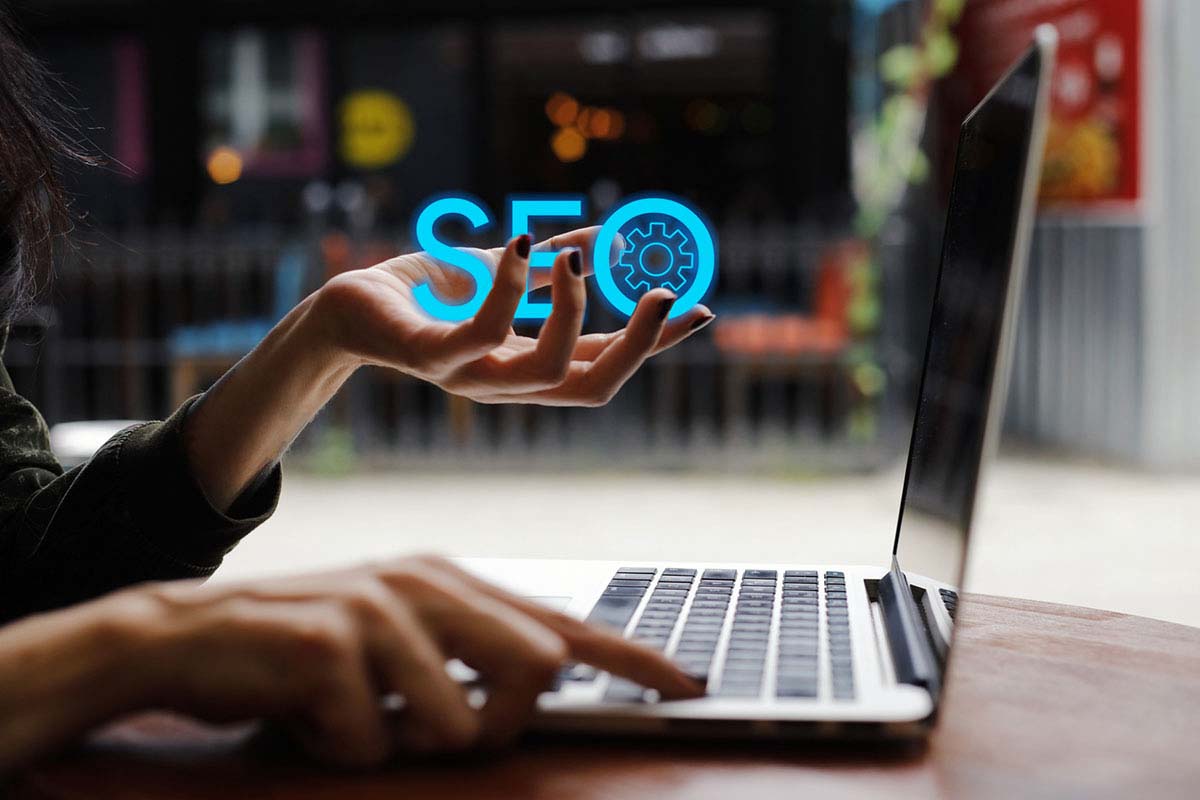 The importance of driving more traffic to your website comes here. The main reason is that people who visit your site may perform profitable actions that help you to reach your desired goals. You may learn the three web design tactics for you to win.
This does not exclude lead generation and converting them to customers or retaining the existing ones.
SEO factors and their considerations should be given a correct thought early during the design and plan process. If this is not the case, and you assume to wait to execute later it will be as you enter a marathon with one leg and hope to win the race.
➡️PPC and Social media Advertisements
If you want to use pay per click (PPC) as a paid ad, consider using other factors to make a campaign perform better.
The procedure to conduct PPC includes preliminary requirements for best practice. These include the following:
✔️Optimized landing pages to make sure once a lead lands there, He/she converts and performs profitable action according to your plan.
✔️Keyword Plan.
✔️Quality of your page structure
✔️Site speed
➡️Email Marketing
Email marketing is a tremendous technique that helps you to drive traffic to your website and keep your audience updated.
Consider using proper landing pages. Put educational materials where users will land after clicking the link from the email.
Email marketing will help you guide your prospects across the business funnel and in the whole buyer's journey till conversion.
Get smart with your digital marketing expenditure by taking advantage of conversion-focused email marketing services from the finest email marketing firm.
The good thing with Email marketing is that you can target your customers based on their needs and wants. This will make your campaign more inbound.
➡️SMS Marketing
Suppose you have your website ready, how do people know the address of your website? You might say through Search Engine Optimization and perhaps PPC, but did you know they require pre-requisites?
SMS Marketing is one of the techniques that can skyrocket your brand reach yourself into the hands of your prospects.
It's a kind of marketing that looks old but has not decreased its efficiency as technology evolves.
To date, SMS marketing has a higher open rate than even Email marketing.

Having this in mind will help you strategize early on how to build a contact list to earn subscriptions. This way you will be foreseeing the future and when it comes, it will be as if you saw it in the past.
💡💡 Want 98% Open Rates? Launch An SMS Marketing Program For for your business today. Register for free. 💡💡
🏁🏁CAUTION:  Bulk SMS messaging is governed by law. Make sure customers know how to opt-out and how often they may receive messages from you. If you don't follow the regulations, your shortcode may be disabled.
➡️Blog optimized contents
If you want to increase more visitors to your site, then you need a lead magnet. Always people when going to a search engine like Google, they seek information. To get people to land on your website you need to give them what they look for with much relevance and value. In this way, you need to invest in content marketing.
Have you heard that content is a King? If so then a blog is a kingdom and conversion is their queen.
You need to make articles often to make your site authoritative and here comes a need for a blog.
If you plan early to have a blog, then you have to start with a content strategy on how the blog info shall be displayed in a suited manner. Else you won't get the desired result.
There are issues of content strategy and pillar pages related to blogs on various structured categories.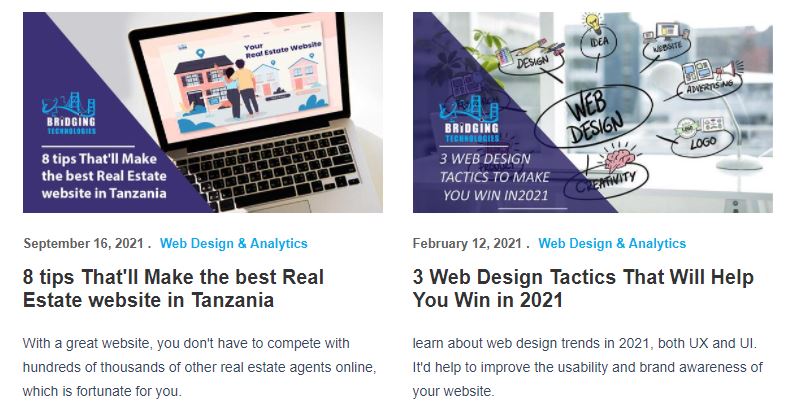 If you don't consider this into the plan then the future is not promising. As a result, the site shall be extremely hard to maintain to accommodate changes in this aspect.
➡️Online Brand reputation management
In the end, we make a website to serve our goals, growing your business and building the reputation of your brands.
In an online environment, the voice is much louder than in the physical world. One bad review that is read by thousands of people can kill your business.
Being realistic and professional needs an extra job to do. It starts with how you provide trustworthy information based on professionalism and how you serve your audience.
If you aim to increase interactions and engagement with your audience then you need to plan a complete journey for them. It will help you ensure their user experience, satisfying them and solving their needs suitably.
5. Choose your hosting plan and domain name tailored to your brand
The domain name is just simply your web address. It comes after WWW of a web address or after @ of your customer email. This serves as your online identity that needs to perfectly align with your brand name.
Domain name example looks like this google.com or bridging.co.tz,
 The web address will contain your brand name at this position www. yourbrandname.co.tz or www.yourbrandname.com.
You need to make consideration to come up with a name that is perfect for SEO.
Follow the following steps to buy your domain name after registering your account:
Choose a Reliable Domain Registrar
Find a Domain Availability Checker Tool, You can use BTL host to check.
Choose the Best Domain Name Option.
Purchase Your Domain Name and Complete Its Registration.
Verify Ownership of Your New Domain.
After securing your domain name registered, the next step is to choose a host and affordable hosting package.
6. Choose the right digital marketing agency to help you.
Once you want to evaluate the best marketing agency in Tanzania or a website design company, evaluate them with the following questions:
a. Would you please describe your agency's process in helping me meet my marketing goal?
If they can't articulate their process and procedure including the tools they use to help you consider it a red flag.
Bridging Technologies, a marketing agency in Tanzania on all the digital marketing services have a well-defined approach.  You can see our web design approach here.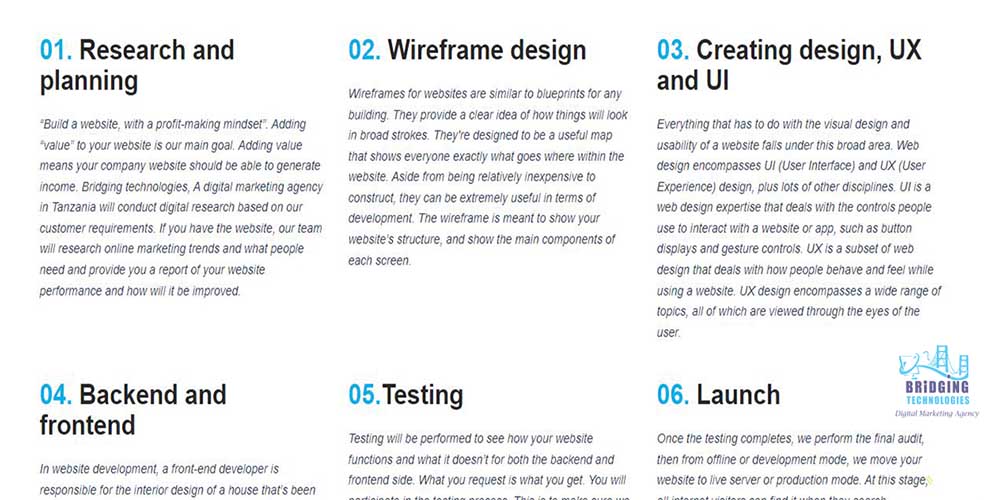 ❤️❤️ Start your web project with us today to get a remarkable result ❤️❤️
b. What was your track record look like for a business like mine?
This will help you evaluate their team skills and expertise. If you want you can pass through their previous work or contact their customers for reviews.
c. What digital marketing strategies did you implement for your brand?
Here learn how they decided to take on a specific strategy. Check if they do keep up with the trend?
For reference, you can see the companies doing online marketing in Tanzania, like Bridging Technologies decided to use the content as a major strategy of website traffic.  
Content helps drive web visitors and convert them to become a customer with SEO or Internet advertising.
d. To what extent do you plan with my team?
For a project to yield the desired result and to truly deliver the agency needs to train its customers. You should train your in-house team on meeting goals and mapping KPI's. You can also train them on how to navigate with the parts of the website after handing it over at the final stage
Assess their communication and the availability of their employees. If they are not available or unable to solve arising problems quickly, keep them aside.
e. How much will it cost?
Learn what is the required budget? Cheaper isn't always mean better. Inquire about the estimated ROI.
Ask what are the results and deliverables that you should expect.
Don't accept the price on the fly, in digital marketing and especially web development practice price is based on the requirements.
The set of requirements you spell is the one that will decide on the pricing issue.
See how your requirement is analyzed from a business perspective, and choose all that is meaningful to help you get closer to your goals. Make sure you pay for something that returns.
f. How will you measure the success of a marketing effort and digital investment?
Ask questions on benchmarks, Metrix, and analytics. Additionally, they should communicate this jargon to help you understand in a very simple way to help you understand.
Digital and online marketing of today they use their blogs to educate their customers on various issues.
Check them to see how authoritative they are in the industry. Seek answers to your questions before making a decision.

g. When will I start to see the result?
No substantial return on investment in the short term. If the agency is after a quick fix, it's a sign that it's a bad option to keep.
Modern marketing is all inbound, the powerful inbound methodology is content marketing, which has proved to generate more leads. But for small and medium companies depending on circumstances, it may take 6 to 9 months to start seeing results.
Investing in digital marketing requires data, patience, and intelligence. You need to be able to wait to get the long marketing strategy to mature. If you find a company that promises you quick fixes or deliverables within a short period, just run.
7. Consult content marketing experts to help you with web copy for your core web pages.
Writing content is not supported to be a hard job if you can get it correctly. But writing with a strategic mind to entertain your readers and pleasing a search engine like google might be a bit difficult.
Placing keywords, perfect anatomy for optimization, and keeping irresistible calls to action requires digital marketing skills. Here is where you will need to hire a digital marketing company to help you. Also, you can have a freelancer with good skills in writing mixed with SEO for better results.
Without forgetting that you might need the blog to be published at least 4 times in a month with a word count of 1000+.
A marketing agency will help you craft a content marketing strategy. It can give you perfect web copy to make sure SEO activities like internal linking with many results
8. Plan a checklist to monitor your web performance.
Have all your to-do and actions put together to assist you to keep everything on track.
The checklist helps you to organize your planned project and enhance communication between you and the web development team.
The checklist helps you with the organization of resources and prioritizing everything needed to make your website design and development proper.
In the end, the checklist will help you with a guide for updates and actions that requires execution.
This is the proper tool to keep your expectation aligned to a specific duration of time, so you will be foreseeing everything without a surprise.
A checklist for web development does not need to belong or be hard to craft especially if you are working with a serious digital marketing agency in Tanzania like Bridging Technologies.
9. Put your plan into action, manage and monitor results
Contact a digital marketing agency to start with, look at what you can do by yourself and what you can outsource, or hire an agency to help you.
Agree on time, budget and milestones and keep monitoring your move.
Conclusion
As the technology trends, online marketing in Tanzania is facing a lot of competition. To stand in the crowd you need an extra job.
Here is what Bridging technologies comes to help.
It is not difficult to plan. But it is always a challenge for the inexperienced individual without a business eye.
In online marketing in Tanzania, we provide unique web design services combined with extensive search engine optimization, online advertising, and content strategy, to ensure business growth.
Let our experienced team help you to create your website at an affordable cost.
---
About Author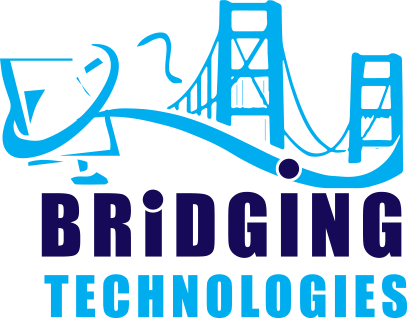 Ally is a versatile professional with extensive experience in digital marketing, business development, data analysis, and management. He is the co-founder and Managing Director of Bridging Technologies Company, where he has successfully led the development and implementation of strategies that have driven the company's growth and success.