The holidays are knocking on doors which means it's time to relax and spend quality time with friends and family.
It is nice to take a break, especially after working on your campaign for months.
SEO does not take a break that's why you must keep your website active during the break.
It is best to get your website ready for the upcoming holiday season by creating your holiday checklist for SEO.
This should include all of the tasks that you will need to complete to maintain your SEO campaign over the holidays.
It also helps you prepare for the upcoming year.
In this article, I have clarified some free SEO checklist for the holiday you should complete before the end of the year.
It's never too late to start planning for the holidays.
Whether you're preparing for holiday promotions, special events, or the launch of a brand-new product.
It's high time to think about the holiday plans before spreading some festive cheer.
A holiday strategy is an excellent way to stay organized, avoid double-ups, and ensure you're working as efficiently as possible.
This is especially true when it comes to creating unique content for social media posts and digital marketing.
When creating assets from scratch, it is critical to ensure that everything is well-organized.
Holiday website traffic and online sales will be even more important in the business diaspora.
As a result, online retailers must start planning now to ensure that their sites are optimized and ready.
According to Google research, approximately 40% of shoppers from all over the world use the search engine to find the best deals.
The holidays are a frenzy of activity.
How will prospective customers know that you can provide them with better services?
Or, how will you distinguish yourself and identify your leads amid a sea of competitors?
This is where SEO comes in.
❄️Provide up-to-date and accurate NAP (Name, Address, and Phone) information for your company so that prospects and customers can find your store and its hours. This will also aid in getting your brand/store to the top of organic search results.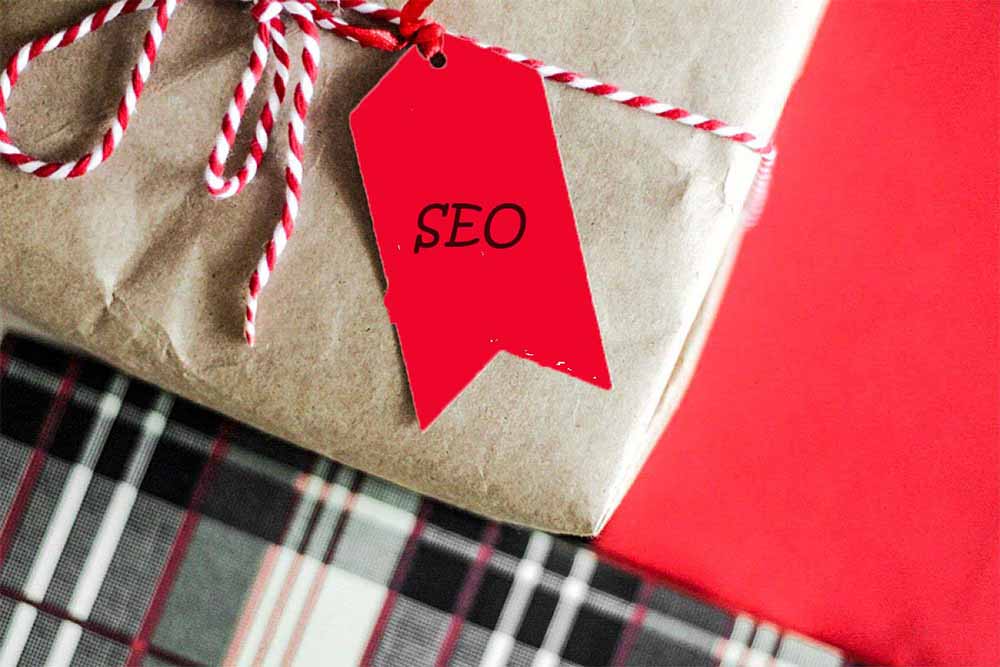 ❄️To optimize your on-page content for holiday keywords, use holiday-specific seasonal SEO. Keep up to date on seasonal keywords from year to year.
❄️Use Google Trends to identify the top trending keywords, which will help you rank higher.
❄️Current trends should be used to update your keywords, page titles, Meta descriptions, and images.
Learn more: Beginner's Guide: Create a SEO friendly website in the digital marketing world
To assist you in your preparations here is a free SEO checklist.
Audit your site for Holiday
When was the last time you audited your website?
Don't tell me you "NEVER" audited your website since you hosted it online.
Ok, worry out Bridging Technologies is always here for you.
Click on the link below your website to be audited this holiday
CTA" ON-SITE AUDITING"
 An SEO audit will look closely at several foundational elements that may have an impact on the performance of your website. It should cover everything from a wide range of technical and structural issues to on-page SEO performance and more.
A constructive audit will consist of more than just pointing out all of the things that aren't quite right. It should also assist you in discovering new opportunities and capitalizing on untapped potential.
In any case, your audit should provide you with the information you need to create an actionable plan.
The plan should include;
Page Speed Load
During the holidays, people are in a hurry. Even a second or two delays in average load times can significantly increase customer dissatisfaction and lower conversion rates. Those losses are unaffordable during the holiday season. Check that your content and images are loading correctly. If that doesn't help, it's time to dig deeper into the website architecture and look for other ways to reduce load times.
Mobile-friendliness
The number of people shopping online is higher than ever and more of these customers will be exploring their options on their mobile devices. This is especially true for last-minute shoppers.
For instance, most orders and sales are performed on the last days of holidays like 23rd or 24th December.
They'll take out their phone and order something before it passes them by.
Bounce rate
Do your visitors leave your site right away? Are they leaving without purchasing anything? Are they abandoning the shopping cart even though it is full of potential purchases? All of these factors contribute to a high bounce rate. It's critical to address them to ensure that your holiday traffic doesn't leave without making a purchase.
Keyword research
It takes time to rank for new keywords.
Content auditing can show you how you're doing for specific words and phrases.
It helps you determine how a few simple changes to your strategy can be very beneficial for the holiday season.
Begin targeting keywords that indicate the user is ready to make a purchase.
Among the phrases are "cheap," "shopping," "in stock," "for sale," "buy," "for Christmas," and so on.
Content opportunities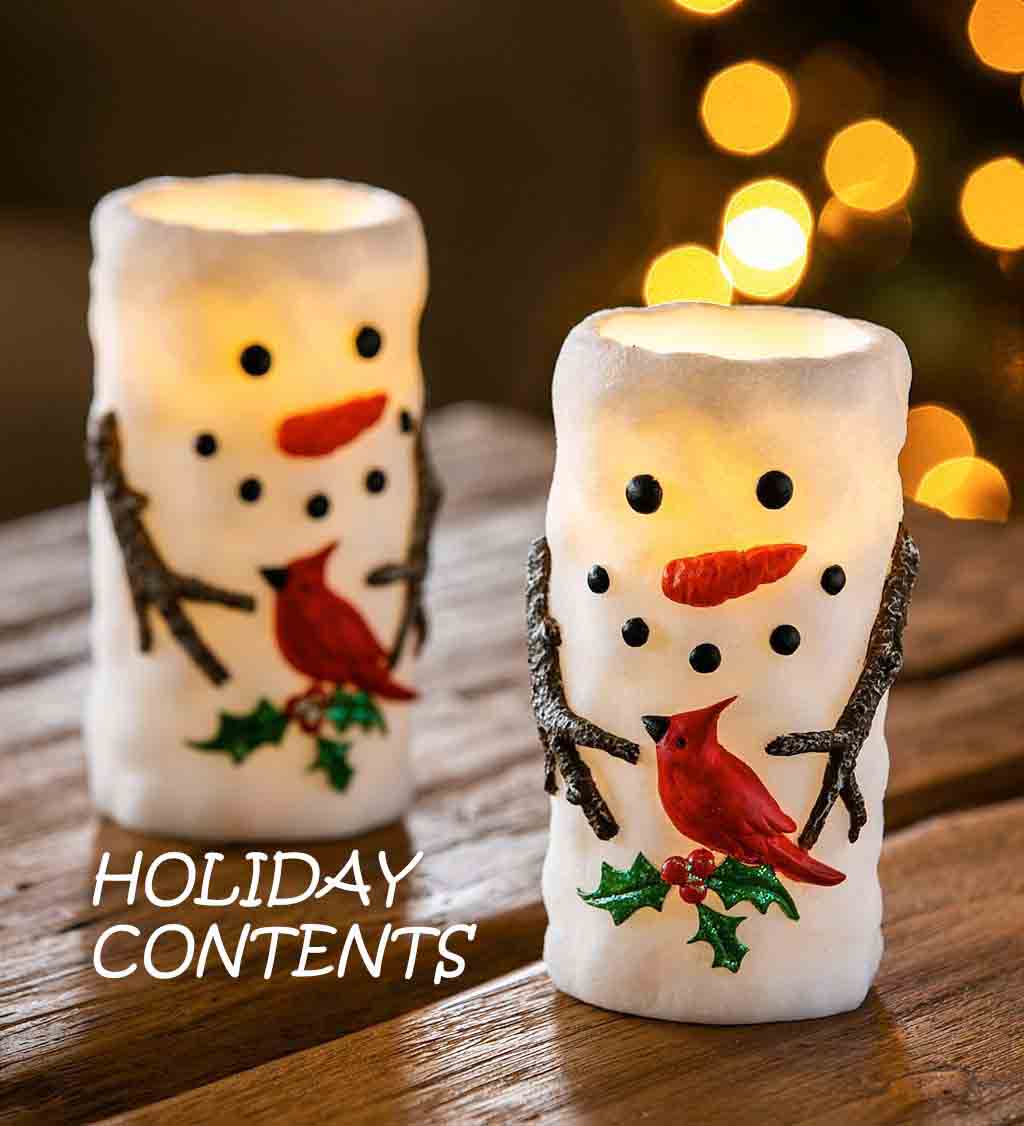 What content will be shown to your customers first? When they arrive, what are they looking for? There are numerous opportunities to add new content that addresses customer concerns and encourages them to act.
An audit, like most other aspects of SEO, will take some time to complete properly. Yes, a quick list of website errors, dead links, and other data is possible, but a good content audit must go much further than that.
Great news about auditing, it shows opportunities for the website and business concerning the bottom issues determined.
Read more: 5 Best Essential On-Page SEO Factors You Need to Know
EXPERT TIP😊

Experienced SEOs understand two aspects of search engine optimization.

The first is that a large number of small optimization changes can have a large impact.

Second, aside from knowledge, patience is an important SEO success factor. SEO takes time to produce results, so keep that in mind. All you need is to be patient, results will come.
 
Perform Holiday keyword Research
Keyword research is also known as the foundation of SEO.
It is an SEO practice in which you find, analyse, and use the phrases that searchers use on the web.
You must understand how to locate keywords that your potential customers are looking for.
Before embarking on the holiday season, one task that you should complete is keyword research. It helps to determine which keywords are frequently searched during the season.
This will help you get some much-needed search traffic to your site.
The promising keywords on a website and searches made by users act as a "Welcome" to your website.
TIPS ON HOW TO GO THROUGH KEYWORD RESEARCH
❄️Discover Keywords using Keyword Planner
Do you know what Google's official keyword research tool is? It's called the Google Keyword Planner. This tool is a great source of keyword ideas and allows you to find search queries with a high volume of searches.
For example; the keywords of "SEO services in Tanzania" and "SEO company" do have different search volumes and competition.
Consider the image.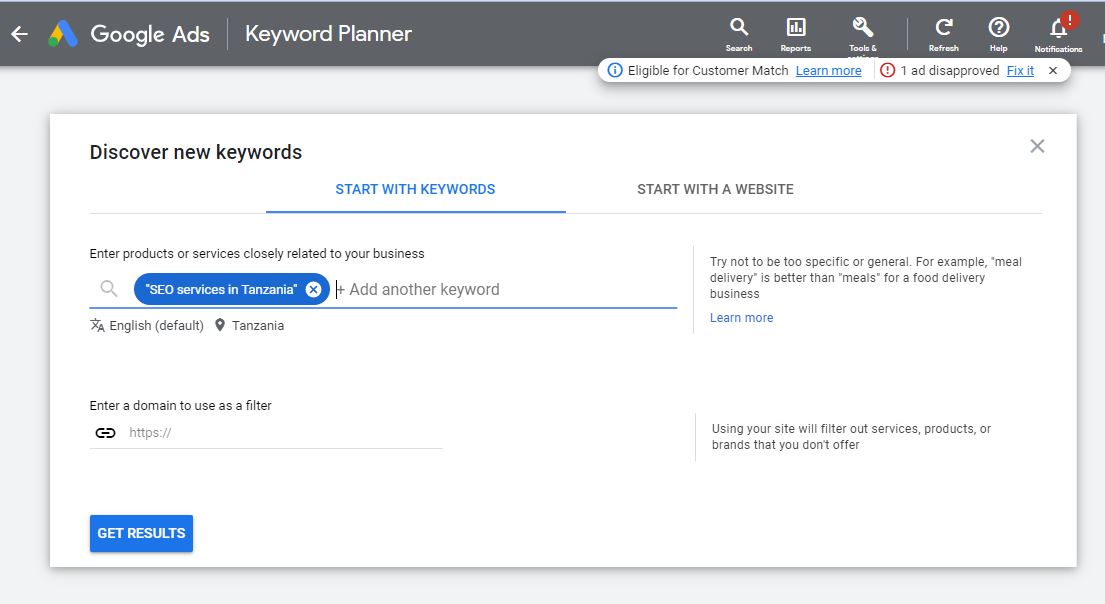 ❄️Explore for Long-tail keywords
Using Google Suggest to find long-tail keywords is an excellent method.
In Google, type in a keyword. Don't click on "Google Search" or hit the Enter key.
Take a look at the keywords that Google suggests:
Example SEO services in Tanzania and online advertising in Tanzania are long-tail keywords.
Consider the example below on "content marketing".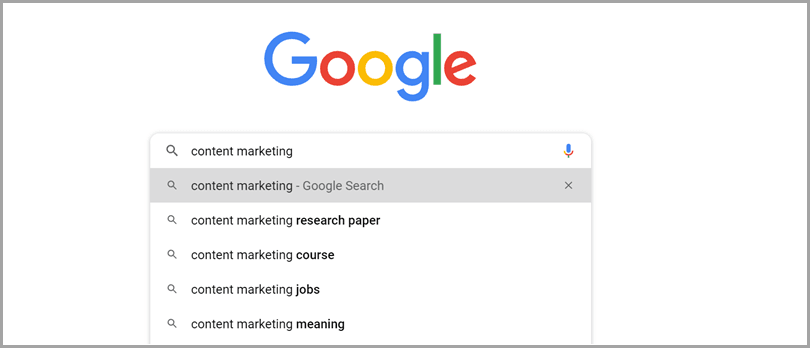 Add Holiday flavours to your content
Since it's the holiday season, expect most websites to add some holiday cheer by incorporating festive graphics and layouts.
There are many holiday-themed graphics and themes to choose from, and they will make your website appear cheerful and festive for a limited time.
In addition to the visuals, you can create some holiday-themed content to go with them. For example, you could add some clever holiday references to your blog post to change the mood, or you could write an entirely holiday-themed post. The holidays are a time for celebration and merriment, and having content that fits the occasion will help set the tone.
For example, if you are infirm of marketing in Tanzania. The website could be filled with content that resonates with a holiday.
For instance, creating articles on relevant topics such as "How to do online advertising in Tanzania during the holiday season".
If you've been in business for a while and have previously published holiday-related content, you may be able to update it for the new season. Alternatively, starting from scratch may be preferable.
For example, when it comes to holiday content, users are frequently looking for tips, gifts, news, and trends for the upcoming year. They could be looking for things like "2022 Holiday checklist for SEO" or "Seo checklist 2022"
Do not abandon the quality of your content to improve your SEO. Remember that you're writing for people, not robots.
Polish up landing Pages
Landing pages are excellent tools for driving sales any time of the year but can be particularly effective during the holidays.
Effective landing pages are effective all year, but there are a few steps you can take to strengthen holiday-specific landing pages. Your holiday landing pages should make a good first impression and encourage conversions. Your holiday sales have a lot of potential with a few messaging and web design changes.
They may be used to generate leads, collect email addresses for a newsletter.
They can also be used to gather market research information or capture direct sales of goods and services.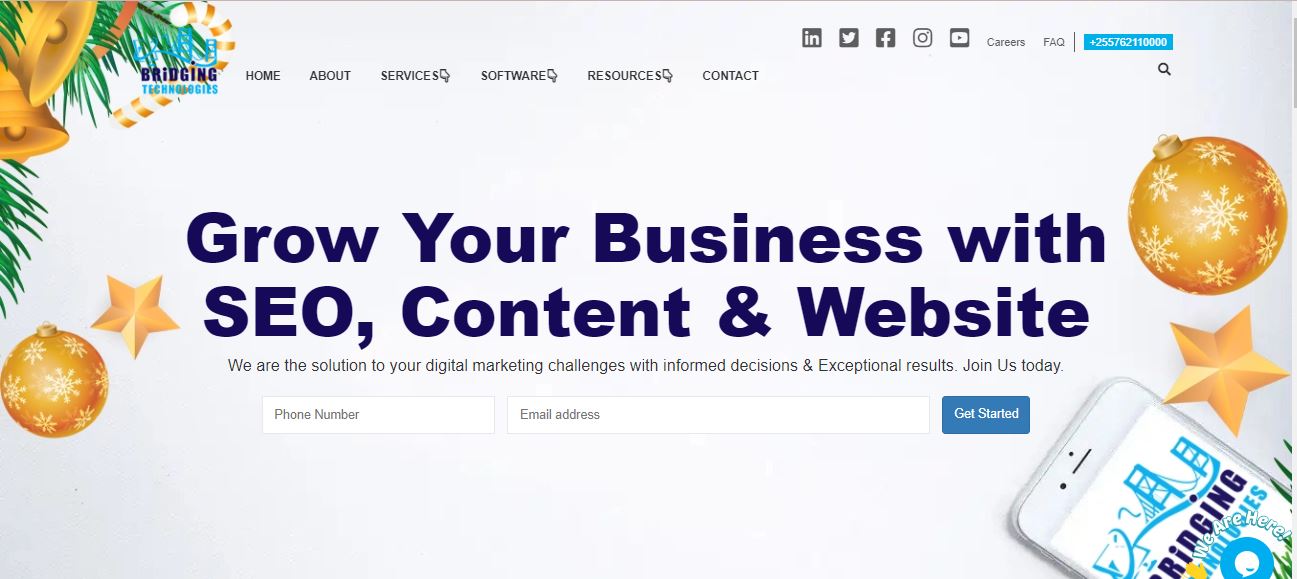 TIPS TO CREATE HOLIDAY LANDING PAGES THAT CONVERT
Maintain simple and easy-to-navigate landing pages.
Ensure that your landing page loads quickly.
Create appealing CTAs
Make use of high-quality photographs.
Take advantage of using videos.
Let us pause here on landing pages. Do you need a trusted agency of marketing in Tanzania?
Bridging Technologies is an online advertising company in Tanzania, that will help your brand on online visibility.
Navigate to last year's Google Search Console
I know you are aware of Google Search Console.
Google Search Console is a great tool to never forget during the holiday season.
Examine your site's Google Search Console data for insights into any previous campaigns.
Surface general holiday queries that you attained for the previous year.
Below here are the ways on how to access the data on Google Search Console:
Navigate to your site's property within Google Search Console
Click "Search Results" in the left-hand navigation
Click "Date" and set the range to 16 months
Click "Query" and filter the data by "Queries containing", "special offer" (or any other variants you've identified, for example, holiday sales, Christmas, and the others).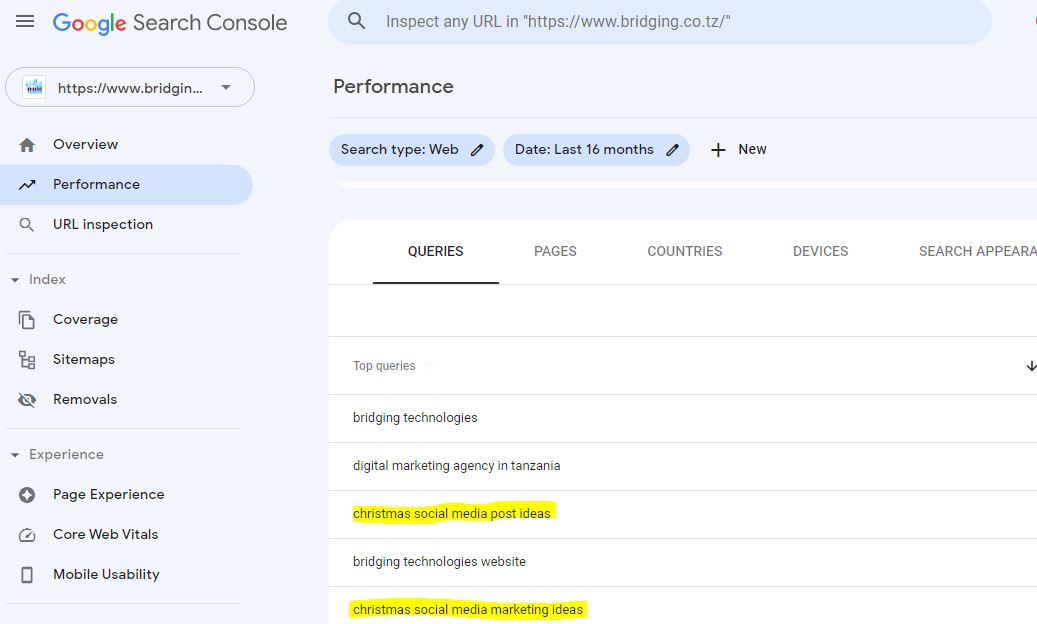 Once you've identified the queries for which your site has previously appeared.
Try to compare them to the URLs on your site that are surfacing for those queries and determine whether or not they adequately address the query's intent.
Final Words
If the holidays caught you on thunderbolt this year.
The above holiday checklist for SEO should help you be better prepared the next time.
As we all know holidays are a wonderful time of joy and giving, it is critical to keep your website active throughout the season. With these tasks, you can be certain that you are prepared for the coming year and beyond, as well as that you have a wonderful holiday.
If you have any questions or would like to learn more about SEO and how it will help your business grow. Please consider a seat with Bridging Technologies as a SEO company for free talk.
SEO takes time to develop. It takes time to identify the problems. It takes time to implement the changes.
It also takes time for search engines to notice your changes and make the necessary adjustments to your rankings.
It takes time to figure out what works and to put a plan in place to build on those successes.
In other words, if you want your website to be ready for holiday traffic, you had to start working on it yesterday. In a pinch, starting today will Serve the purpose.
All you have to do to get our free SEO Checklist is enter your email and click 'DOWNLOAD.' As simple as that! The holiday season doesn't have to be a stressful time if you plan ahead of time and prepare.
Download our free SEO Checklist to learn how to keep your business on track during the holidays.
---
About Author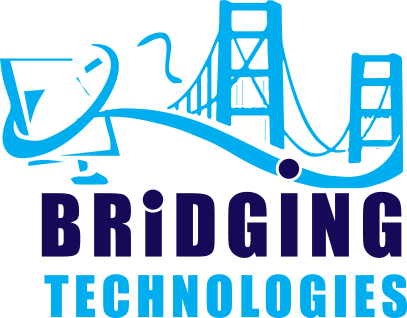 Enthusiastic Digital Marketer and Web Developer who is eager to contribute to team success through hard work, attention to detail and excellent organizational skills. Clear Understanding of SEO and web design is what my passionate skills lies on. I dedicate to provide basic awareness to anyone interested on digital marketing. Am a Passionate and highly resilient person...and much more motivated working on a team,.