There is an adage that states "Rome wasn't built in a day"
Google uses this adage to satisfy its customers.
Do you know the customers of Google?
You guessed right it's "ME" and "YOU".
We search every second of our lives on "Google".
To look for restaurants to eat, Colleges to get our degrees, and many adventurous things.
Okay to cut the story short.
Google always practices its best efforts to ensure we are satisfied while using it.
Search Engine Optimization is the strategy used.
Good or bad enough it's always changing.
Search Engine Optimization is a constantly changing strategy.
Google is constantly updating its algorithm and how it processes queries, so your SEO strategy must stay current to compete.
Due to these changes,as SEO experts we need to move with the SEO trends of 2022.
Thanks to Google for an opportunity today we have SEO Experts 😊
You want to know more about how to implement SEO for your digital marketing goals:

Read the article below:

Beginner's guide: Create a SEO friendly website in the digital marketing world.
If you're planning your SEO strategy for the new year.
Check out these 2022 Google trends in SEO and predictions first!
Continue reading to learn more about what to expect from SEO in the coming year. How to optimize your SEO strategy to capitalize on the latest SEO trends.
The great thing about this article, it has highlighted Google trends in SEO and the best practices for each strategy.
Voice search
Voice search is becoming incredibly popular. It has been reported that approximately 58% of consumers use voice search to find local business information.
We already have Alexa, Siri, and Google Assistant, all of which play important roles in people's daily lives. Many people nowdays own a smart speaker.
These smart speakers includes voice activation in everything from televisions to medical devices.
It's the matter of time before voice search becomes the primary form of search.
Who likes surprises in SEO?
I hope, you don't so a piece of advice.
You need to be ahead of time to kill the beast.
Now, you need to design strategies and approaches to optimizing your website with voice search.
One of the best strategies is designing "Conversational Contents".
This means that there will be a greater need for businesses and marketers to focus on "conversation marketing" skills – translating written content into natural language. This shift in vocabulary may also provide an opportunity for brands to connect with their customers on a more personal level.
The best way to create conversational content.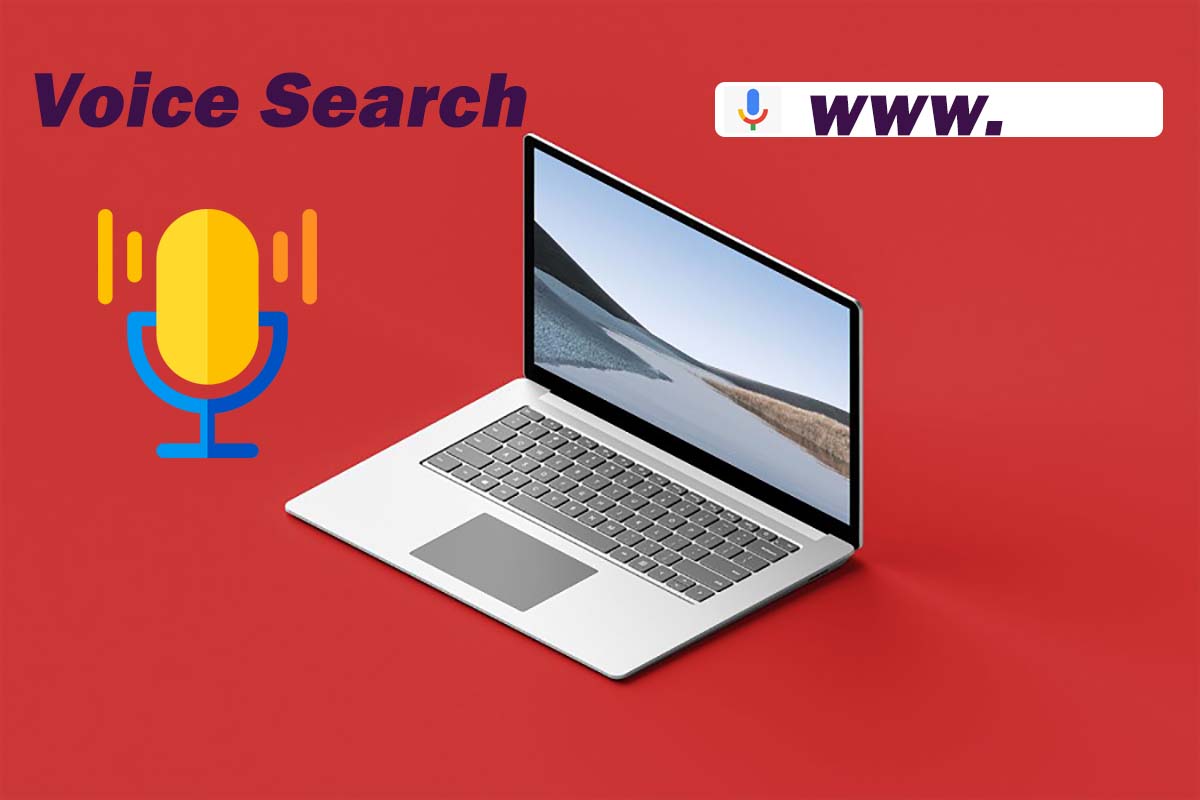 Voice search encourages you to create more conversational content, with no formal structure and less emphasis on keywords.
To stay ahead of this trend, you should be aware of what conversational content is about.
Conversational content is available on the internet so that you can easily generate new ideas for your website.
The best places to start are Q&A websites like Quora and Reddit because they have a lot of resources to help you get started.
Also, because people will be asking questions and expecting Google to provide answers through its voice assistant. For example, things like FAQs and how-to articles will be more important than ever.
Tip – what to do on voice searches
You can and should spin long-tail keywords into queries to cater more to specific conversational-based searches. You'll then be able to create content centered on answering such questions, which could take the form of a blog post or a FAQ page.
For instance, Bridging Technologies has optimized its website with an FAQ section.
Also, every specific service page has its FAQs on its respective service.
For example, the page of SEO services has its FAQ's section
Remember to include the search query as an H1, H2, or H3 tag as you normally would.
You need help on this:
Consult Bridging Technologies as the digital marketing agency in Tanzania. To sort out all your digital strategies online.
Featured snippets
The search results that typically appear at the top of Google's organic search results in featured snippets.
They appear in many forms, including answer boxes and 'People also ask', which Google deems to be relevant based on the original search query.
The goal of such boxes is part of Google's ongoing effort to answer questions as quickly as possible and improve the user experience. It eliminates the need for the user to search click-through in many cases. Regardless, this is a fantastic opportunity to increase organic impression share. Also, establish yourself as an authoritative and helpful source.
SEO, or search engine optimization, relies heavily on featured snippets. These are excellent opportunities to increase the number of people who visit your website. A featured snippet can even get up to 8% of all clicks! They also increase the number of no-click searches for your page, which occur when a user does not click on the link to your page.
Tip – what to do on featured snippets
The techniques suggested earlier for optimizing for voice search can also be applied to featured snippets, as you are answering a query.
While there is no set formula for appearing in featured snippets, we do know that Google prefers numbers, steps, and lists. Have you ever used Google to look for a recipe? If so, you've probably noticed that the ingredients are presented to you in the form of a clear and concise list.
If you have figures and enticing stats, make sure to include them when creating content for rich snippets.
Take a look at this scenario below;
Bridging Technologies designed an article on bulk SMS for an effective marketing strategy.
If a user asks a question like:
Why using bulk SMS is an effective marketing strategy?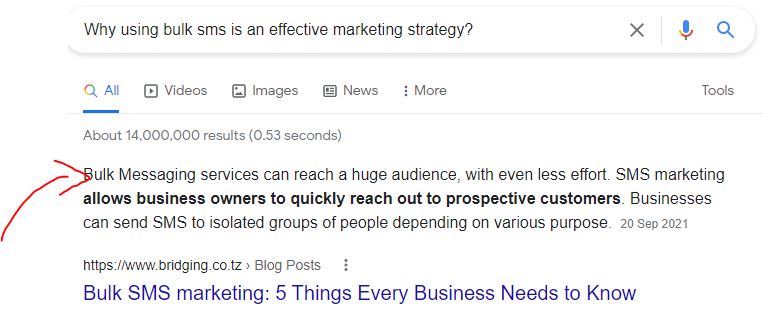 The above blog post appears on Featured Snippet.
Mobile responsiveness
When it comes to SEO trends in 2022, mobile optimization may appear to be old news.
As we recall,by March 2018 following the implementation of mobile-first index.
It has become an increasingly important ranking factor.
Many SEO professionals till date are hardly striving for mobile optimization.
Having your site optimized for mobile will also increase your chances of ranking higher in search results.
Is your website mobile optimized?
If not, Schedule a meeting with a SEO expert today 😊
However, if you have both a desktop and mobile version of your website. The Google bot will crawl the mobile version first before deciding how to rank your website. When you consider that 90 percent of internet users access the internet through mobile devices, it's no surprise that mobile optimization is an important SEO strategy.
If you don't have a responsive website or a dedicated mobile site, having one is a must. Without one, you'll miss out on reaching prospects and customers who use multiple devices to browse.
Seriously you don't have one! Consider, to schedule a free consultation meeting with a prominent digital marketing agency in Tanzania.
Not only that but a profound SEO company in the country hail your website on top of the search.
Tip – what to do on mobile responsiveness
It's a good idea to make sure your mobile and desktop sites have the same primary content. Metadata such as page titles and descriptions should also be included. However, make sure to reduce the mobile page load time, as this is a key ranking factor.
LEARN MORE: 5 reasons why seo is the best strategy for the website achievement
Video content
In addition to mobile and voice content, people are increasingly visual when they access the internet. With the rise of apps like Snapchat, TikTok, and many other social platforms adopting stories, it's no surprise that we're seeing an increase in video content as well.
Not only is video content one of the best new SEO trends in 2022, but it also helps you to be perceived as an authoritative and helpful source. They perform well on social media platforms such as YouTube and Facebook. That led to the most recent changes on Google algorithms.
For example; You have designed a video on how to choose the right digital marketing agency.
On writing markups of the video use words like "How to know the best digital marketing agency" or "Tips on choosing a digital marketing agency" Instead of labeling it as "Tips version 01".
The specifically labeled markups create more chances to rank in relevant searches and increase high engagement with your videos.
Tip – what to do on video content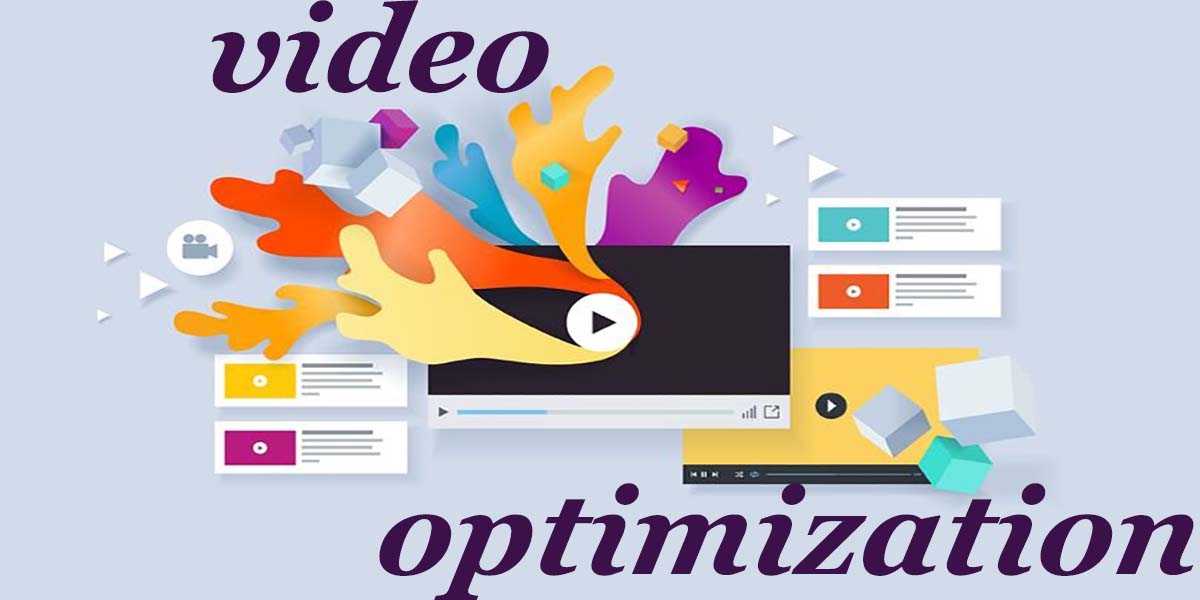 If you're ready to take that step, start by brainstorming video content ideas.
This includes tutorials, instructional videos such as how-to's, and product demonstrations.
Once you have this list, you will find it easier to create small pieces of content with short but appealing snippets.
This will encourage viewers to watch your content and click through to your articles, as well as help you appear in Google's video section.
E-A-T principle
It's not "eat", that you should think of food 😉
It's a principle of Google that stands for Expertise, Authoritativeness, and Trustworthiness.
It's one of the latest SEO trends, never to miss out to implement on your website.
Expertise
The creator of the main content is referred to as an expert, and their credibility is taken into account.
For instance, Bridging Technologies is a SEO company that provides SEO services in Tanzania.
It writes articles that are relevant to SEO and digital marketing.
This signifies that,the website of Bridging Technologies has a specific area of expertise ie; digital marketing.
Authoritativeness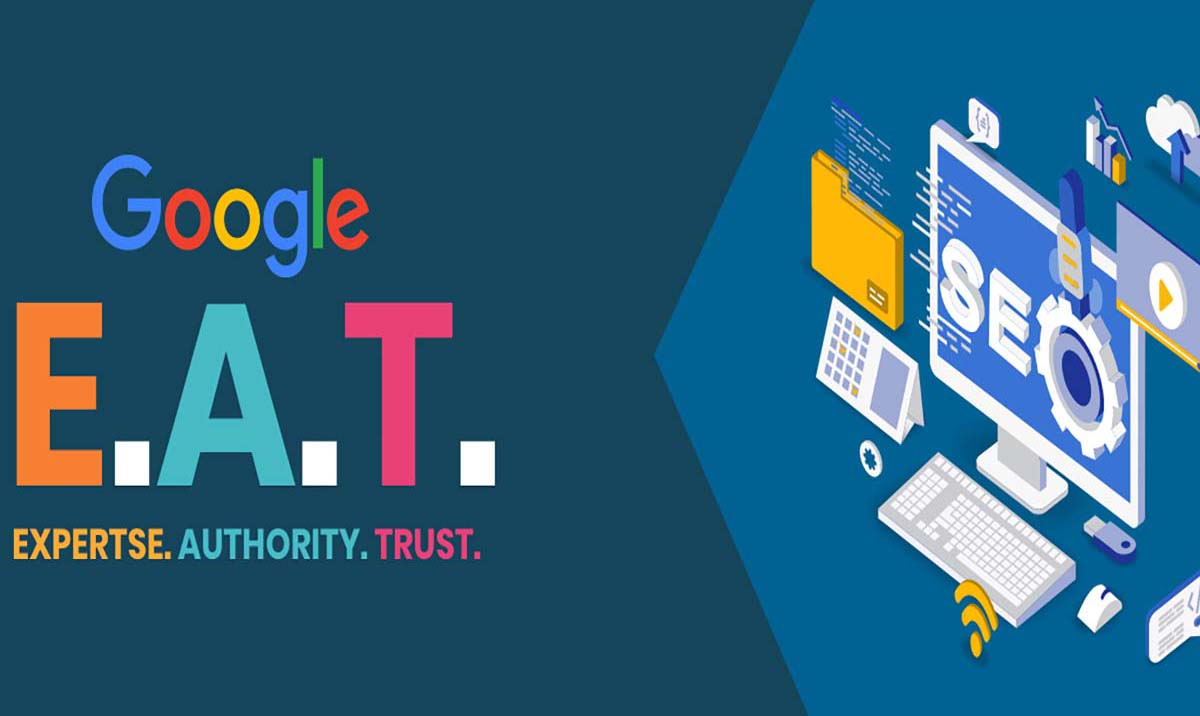 The goal of authoritativeness is to demonstrate that your website is an authority in your field. The number of backlinks you have from relevant, authoritative sites contributes to the authority of your site.
For example, if your website is a SEO company and different SEO firms start mentioning your brand.
Such as on their online articles and links to your website.
The authority of your website will grow as search engines begin to recognize your site as recommended and trustworthy.
Trustworthiness
The term "trustworthiness" refers to how trustworthy your website is. This can be demonstrated by having a secure domain that protects users' personal information.
As well as by receiving positive customer feedback.
It's important to note that if you receive too many negative reviews on your online presence.
Search engines will interpret your site as being of low quality.
Thus, affecting your position on the SERP.
Need to Improve your EAT?
Working on your E-A-T can help to increase your business's online visibility.
That will result in more leads and sales.
Bridging Technologies being the best digital marketing agency in Tanzania is ready to help you reach your E-A-T goals online. 😊
Ethical Link Building
Google has also begun to severely penalize link schemes. As a result, you should be cautious of any link-building strategies that include mutual link exchanges, paid links, or other non-organic link-building techniques.
According to the latest Google trends in 2022, Exchanging money for links, excessive link swaps.
 Also, large-scale guest posting campaigns are now considered black hat SEO techniques.
If your company wants to rank higher on Google's search results page.
It's time to shift your focus to more ethical methods of obtaining quality backlinks.
The best way to accomplish this is to create useful content that will naturally attract links.
TIP ON ETHICAL LINK BUILDING
When you've finished creating high-quality content, make sure to share it on social media platforms like Facebook and Twitter. However, remember not to spam when sharing the link! To get the best results, make sure that any posts are relevant to what you're trying to promote.
STAY ON TOP OF SEO TRENDS IN 2022
To wrap up, SEO's future is changing and evolving.
We must embrace these changes now to remain competitive and prepared for what lies ahead in the coming year.
So, it's time for your company to consider how they can incorporate some (or all) of these principles into their current marketing strategy.
If you want your SEO strategy to consistently drive success for your business.
You must stay on top of the latest SEO trends. This list of Google trends in SEO will assist you in keeping your SEO strategy fresh.
So that you can perform well in search results and drive more qualified traffic to your website.
Don't fall behind if you need assistance, we offer the best SEO services in Tanzania. Schedule an appointment today to talk to one of our experts.
---
About Author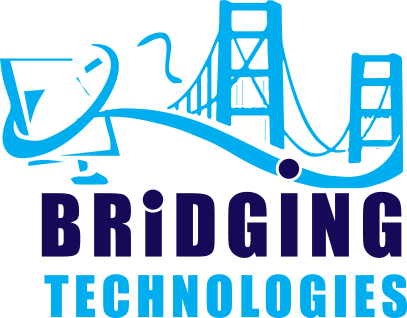 Enthusiastic Digital Marketer and Web Developer who is eager to contribute to team success through hard work, attention to detail and excellent organizational skills. Clear Understanding of SEO and web design is what my passionate skills lies on. I dedicate to provide basic awareness to anyone interested on digital marketing. Am a Passionate and highly resilient person...and much more motivated working on a team,.