Facebook is now the biggest social networking website worldwide. It is a trend that has become unstoppable since its introduction in 2004.
Facebook is one of the most visited social networks in the world as a result of its user-friendly features. It is costing people an average of 2 hours and 24 minutes each day.
The social network is more than a place to connect with friends and family. You can understand more about what is social media marketing and why it matters. It's also a fantastic platform for marketing your products and services. As a business, you need to understand the right social media app to use.
Facebook is effective in growing your audience or selling products and services.
At a time, we decide who gets to know about us, Facebook has made it possible for users. Users can advertise their products efficiently. The company has become a trend that is no longer going out of fashion anytime soon.
Facebook is a great tool for promoting your business, particularly if you don't know how to begin.
Some marketers do not know how to create Facebook ads. This led to the failure of their campaign. Some of them make mistakes on Facebook ads manager led to the failure of the campaign.
The failure is caused by a lack of expertise in Facebook advertising strategy. Bridging Technologies is a digital marketing agency that offers social media marketing services in Tanzania. It consists of expertise on ads that could make your business reach customers online.
Many marketers are asking how to create Facebook ads?
This Facebook Ads guide will show you the most effective ways to advertise on Facebook. This includes how to control your costs rise and can promote your business globally.
❤️‍🔥 Bonus of Facebook advertising checklist that will guide you to the successful Facebook ads campaign. Download it here
Why you need Facebook ads for your business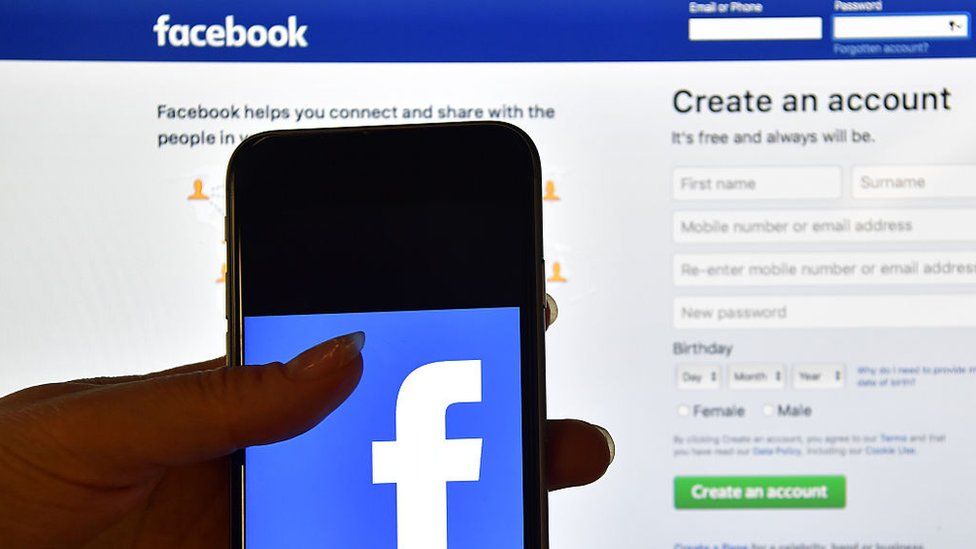 Do you know about the benefits of Facebook advertising?
Well, we're here to give you benefits that will blow your mind. And frankly, you probably have seen how much you're losing by not using Facebook advertising.
💡Your Audience is on Facebook
There are millions of people who engage with businesses on Facebook every month. This doesn't seem to be slowing down. With so many people looking for information about your business, Facebook can help get you more exposure than you ever could find on your own.
With such several audiences, it can drive new leads and convert them. Also, it will get your message to new and existing customers.
💡Facebook Ads Are Cheap
Have you ever thought about why businesses use Facebook ads? It's an inexpensive and effective way to reach your target audience.
An effective Facebook advertising strategy can make you use a small amount of money and have a great effect on your business sales.
The cost of running Ads is incredibly low. In fact, for every dollar you spend on ads, you will earn $4.75. This means that when you compare the cost of running Ads against the ROI (Return on Investment), it makes sense for businesses to use Facebook Ads. The main reasons businesses use Ads include cost efficiency, reach and cost control.
💡The Targeting Capabilities of Facebook Are Exceptional
I know it sounds crazy, but I believe that the targeting capabilities of Facebook are exceptionally high. In comparison to other social media platforms, Facebook has an incredible capability in what it can do for its target audiences.
The Facebook ads manager is no longer just dependents on location. It has more targeting options, including towns, regions, age, likes/interests, income bracket, and other demographics.
Also, it looks at your interests, what your friend's post, and what other people in your network are doing. Even to what other people in your network have said in the past.
Your Facebook advertising strategy will help you identify your real audience.
Facebook has already made it simple.
💡Facebook Allows You to Find New Qualified Leads Easily
Facebook Ads can reach people early on in the buying process, even before they are aware of their need. Facebook's ads manager has a tool known as "lookalike audiences,". It allows you to take a specific audience and have reached out to NEW individuals. The new ones have similar to that demographic and are likely to be interested in your brand.
Bridging Technologies is a digital marketing agency that offers social media marketing services in Tanzania. We can help you increase your sales via Facebook ads.
How to choose the best ad type for your business
Before explaining how to create Facebook ads you need to understand several Facebook ads types.
Before you create Facebook advertising, first you need to understand there are several types. Every one of them has a different purpose. When you understand them, you will be able to choose what can work for you.
Below is a list of various Ads available to Facebook advertisers, throughout this blog, we'll walk you through each type individually.
1. Photo's ads.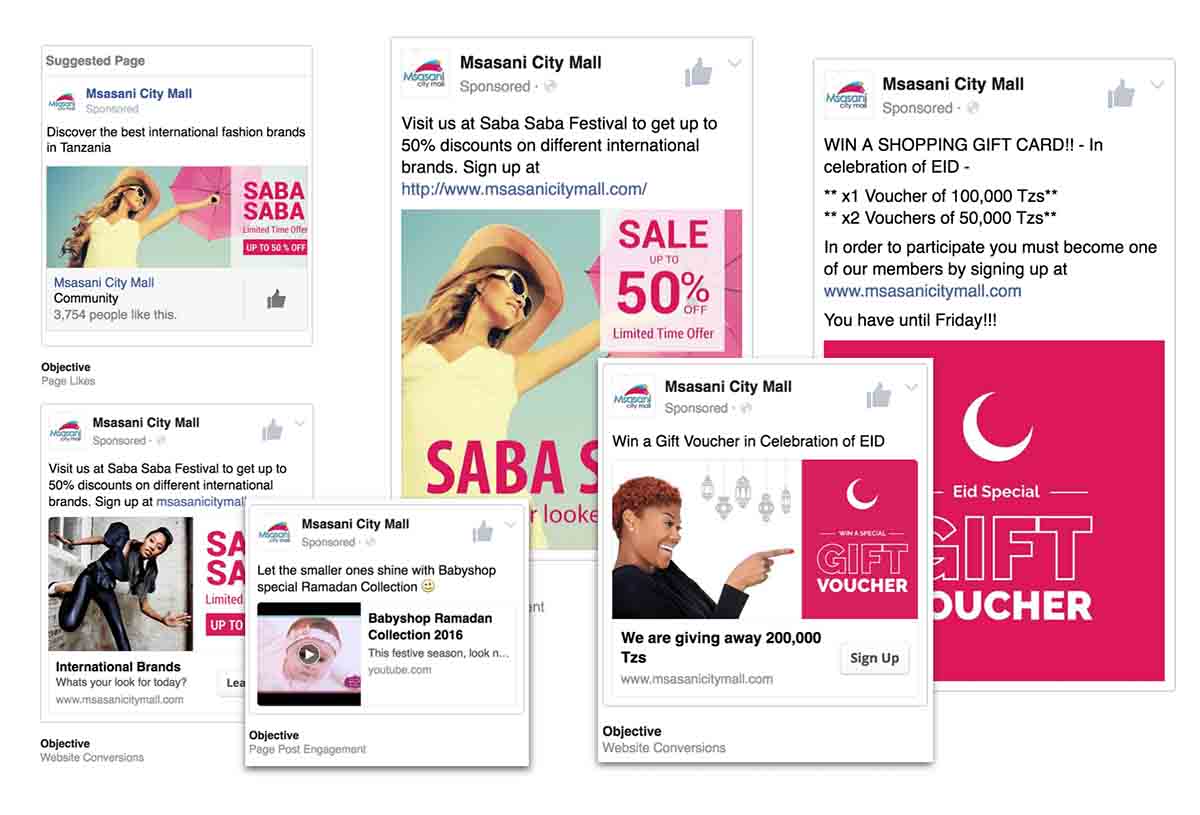 One of the most common ad formats is photo ads. Photo ads appear seamlessly in the user's newsfeed because they look like any other content post. These ads feature an image, call to action (CTA), and link to a landing page or blog post.
The goal of a photo ad is to get clicked on while providing no personal information other than the ad copy. Users have a great interest in seeing what others are sharing in their newsfeeds, so they become more engaged. This is because they need a visually appealing photo and interesting ad content.
Photo ads are adaptable and an ideal choice for businesses that are getting started with Facebook ads.
These ads are simple to design and set up, allowing you to start generating important visitors to your site straight away.
A photo ad is an incredible tool to raise awareness of who you are and what you do. A photo ad provides a clean simple format to use with inspiring imagery and engaging copy.
Photo ad specifications:
Image size: 1200-628 pixels (px)
Minimum width and height: 600 px
2. Video ads.
This ad type is one of the most popular forms of Facebook advertisements. Video advertisements are popular ads in increasing engagement and generating conversions. This is due to the good results it generates.
Video ads are popular on Facebook right now! It's likely to be successful at all times of the day. To maximize your views and your money, test out various times to see when your video content best resonates with the Facebook audience.
The video ad is ideal for interaction as it auto-plays when viewers scroll down the page. It captures the user's attention, prevents them from scrolling, and encourages them to view the ad. Video advertisements are a fantastic method to get consumers to discover more about your company.
Video ads are great to use if you want to show off your product, service, or brand. You can create video ads from Ads Manager or boost a post that includes a video from your Facebook Page.
3. Stories ads.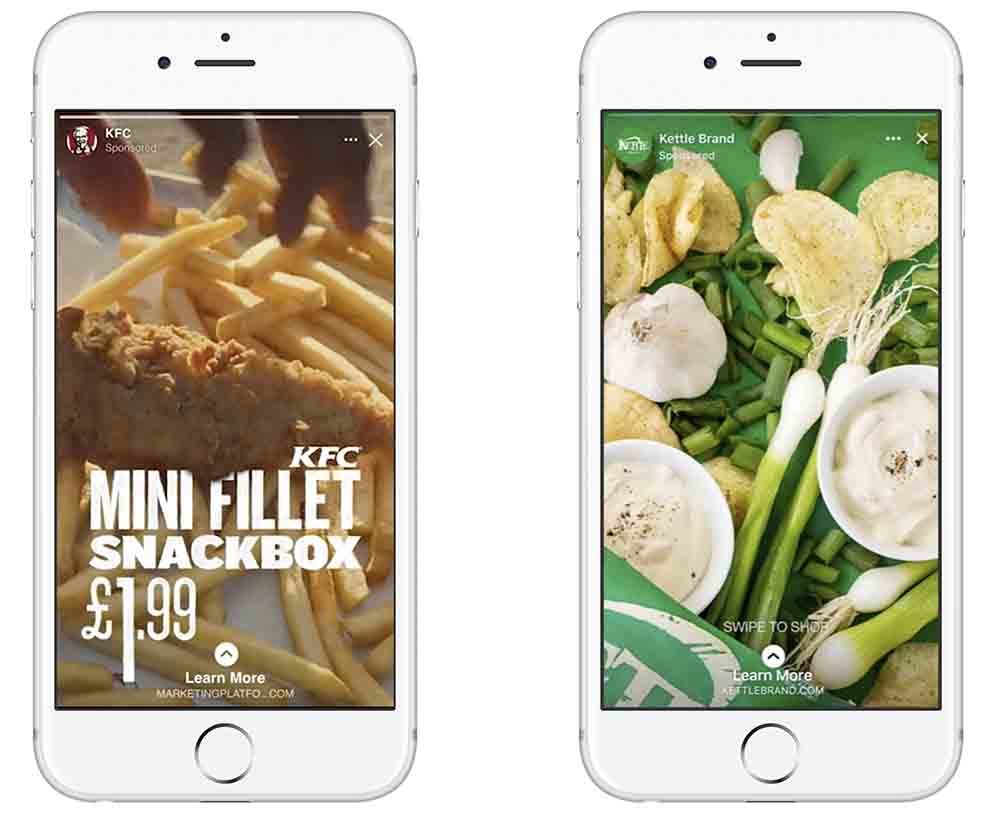 Stories are a place where individuals can quickly and easily share and find things that interest them. The usage of stories across social media platforms is expanding all over the place.
An Ipsos survey of stories users says, 68% of individuals claim they use stories on at least three applications.
Facebook Stories support all the existing Instagram Stories ad objectives. This includes reach, brand recognition, views, app install, conversion, traffic, and lead generation.
Advertising through stories has been shown to result in beneficial commercial outcomes. According to the Ipsos poll, 62% of consumers got more interested in a business or product after seeing it in a story. An example of a company that is successful with Facebook Stories ads is KFC. KFC uses creativity in the ads by adding stickers and calls to action on Facebook and Instagram. It received a brand lift from its Facebook Stories ad campaigns.
4. Carousel ads.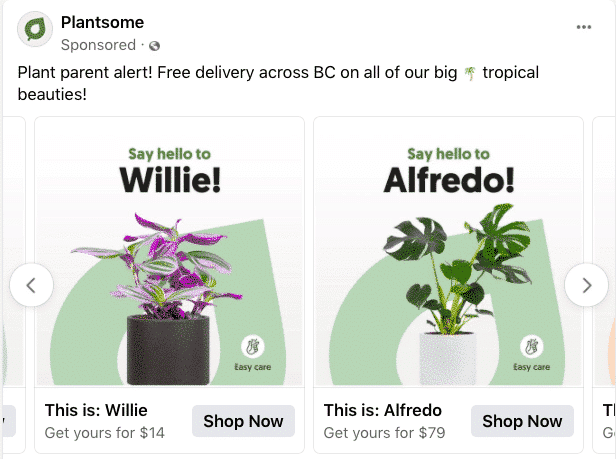 In a carousel ad, you can use up to 10 different images or videos to showcase your product or service.
These images or videos can be taken from any angle, covering a wide area (i.e., the entire width and height of the ad). Also, Carousels will sometimes show multiple photos at once. However, it is rare for them to showcase more than one product at a time. This is because, although shoppers may enjoy flipping through the images in the ad, if they don't see something they like immediately they may move on to another ad page. Since there isn't anything else that caught their attention.
Carousel ads are great when you want to highlight the products and show how to use them. These ads are also great when you want to tell a story about your brand.
5. Dynamic product ads.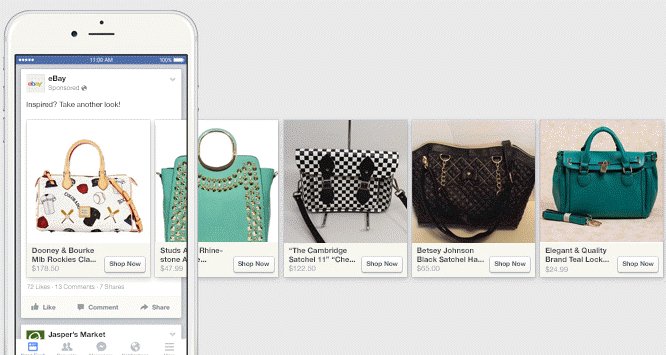 Facebook's dynamic ads are ads format designed to serve ads to users with interest in similar products.
They apply to users that have already expressed interest in a product you are selling by visiting your website or app.
Dynamic ads allow you to market your complete product catalog. This reduces the frustration of running thousands of individual ads.
Dynamic advertising gathers consumer intent signals on websites and applications. This guarantees that the appropriate items are connected to the right people.
Catalog campaigns are an excellent method to use a product feed to produce Facebook ads. Once your integration is complete, it is quite simple to get campaigns running and begin earning sales.
❤️‍🔥Bonus: Get a free Facebook advertising checklist to help you plan your Facebook advertising strategy quickly and easily. Download Now.
6. Slideshow ads.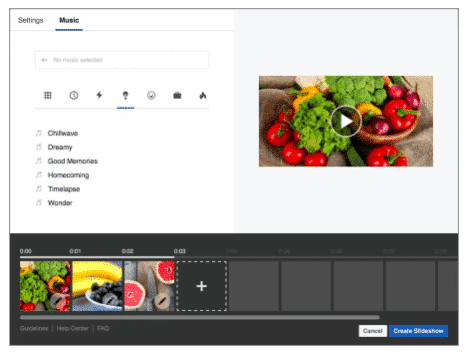 Slideshow ads are video-like ads that show your narrative by using still pictures. The picture is in a sequence and has effects that exhibit motion, play sound, and display text.
This innovation allows you to "make a video-sized impression without a video-sized budget."
A lot of business speaks about video content ads, but not everyone does it. The reason behind this is always the expensiveness of production. Video Ads need high-end equipment, employ videographers, or rent a studio.
Slideshow Ads made it simple. You can create customized, high-quality video content for your campaigns with Slideshow. It is affordable, and successful for your business.
7. Collection ads.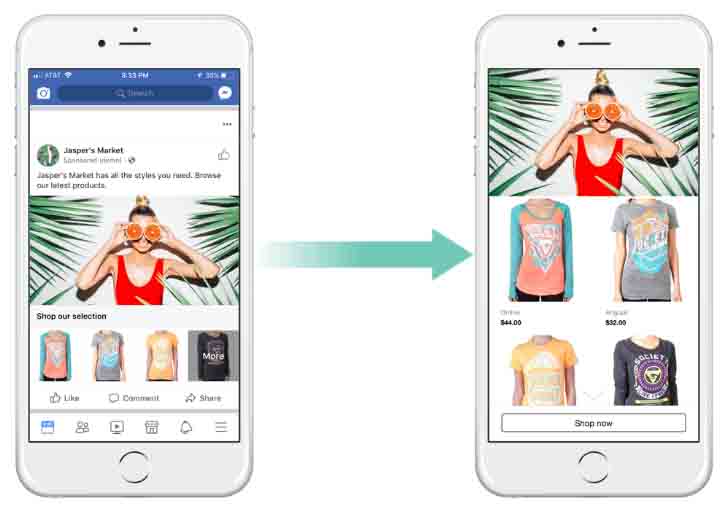 Facebook collection ads are a mobile-only format, designed to maximize the mobile user experience.
Ads are found on both Facebook and Instagram. People who tap on collection ads are seamlessly taken to a fast-loading, full-screen experience to browse or learn more about the ad offer.
Customers who click on your collection ad to browse or learn more will be transported to a fast-loading graphic post-click experience powered by Instant Experience. In the free online Blueprint course, you'll learn how to provide your consumers a fantastic browsing experience. The 15-minute course is now accessible.
8. Poll ads.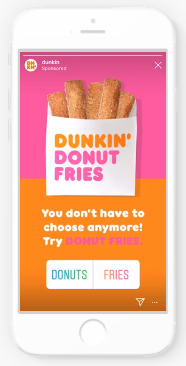 Poll ads allow you to use a two-answer poll to interact with your audience. When you add a poll to your video ad in Ads Manager, it appears in the Facebook News Feed and Instagram Stories on mobile devices.
Facebook video poll ads increase engagement, interaction, brand awareness, and conversions. This is because greater engagement occurs as a result of providing customers with the material they like. Also, it brings engagement and interaction a user has with a brand, the more likely they are to keep the brand top of mind and make a purchase.
Note that all requirements for video ads still apply. You'll need to upload a supported file format and check the minimum aspect ratio for each placement to deliver your poll ad.
Conclusion
Facebook is an advertising tool that helped you reach your ideal customers. It is based on what they like, their interests, and their behaviours. It is a tool that will save you time and money.
The way most businesses running more Facebook campaigns, it makes a ton of sense. You can get high-quality clicks, conversions, and sales without paying a lot.
Facebook will be optimizing your ad delivery to get your message in front of those most likely to convert. Facebook advertising can help you grow your business. It can help you connect with people who like your posts and reach out to those who might be interested in your products.
Bridging Technologies is the digital marketing agency that offers social media marketing services in Tanzania. We can help you increase your sales via Facebook advertising.
---
About Author